Bolton
Restrictions remain in place on Trust premises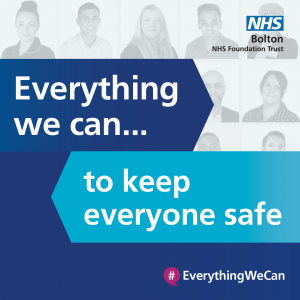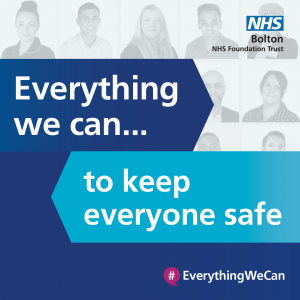 Whilst the government's Plan B restrictions have been lifted, we want to encourage our staff, patients and local communities to continue to do everything they can to minimise the risk of spreading COVID.
Infection rates in Bolton are still high and we will continue to follow the measures that we know have been keeping people safe (hands, space, face, fresh air).
With that in mind, we are asking anyone visiting the hospital or one of our community sites to continue to wear a face mask and follow social distancing guidance. Please do not attend any of our sites if you have any symptoms of COVID-19.
We know that vaccination is the best way to protect ourselves, our colleagues and our patients from the virus, and we would encourage anyone who has not yet taken up the offer of the vaccine to do so.
You can find details of where to get vaccinated from your GP or on the Bolton Clinical Commissioning Group website: https://www.boltonccg.nhs.uk/patient-zone/coronavirus