Can you give cash, time or food donations this winter?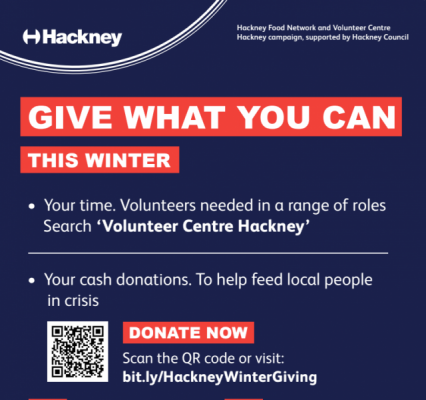 GiveWhatYouCan
People in Hackney are being urged to give what they can – whether time, money or food donations – to help those who may be struggling, as part of Hackney Council's partnership work to support the community this winter. 
Volunteers 
Community organisations that support vulnerable residents and families-in-need are looking for volunteers. If you can give some of your time, whether it's a few hours a week or one day a month, Volunteer Centre Hackney would like to hear from you. Volunteering roles: vchackney.org/volunteer
Cash donations
Cash donations are needed to buy essential food items for the Hackney Food Network, which works with Hackney Council to deliver more than 3,000 hot meals and 2,000 food parcels per week. This community-led food response also provides culturally and dietary specific food and signposts those in need to community networks for longer-term support. 
Here's how your donations will help:
£5 will ensure households have fresh fruit and vegetables

£10 provides a grocery bag of staples, such as pasta and rice

£20 provides an older person with essential food for a week

£35 will feed a family of four for a week.
Residents and businesses can help by donating cash via the Give What You Can JustGiving page
Food donations 
If you prefer to donate food in person, you can drop off items directly to two local community food hubs, below. 
Items most needed are rice, pasta, dried beans, pounded yam, tinned food, breakfast cereals, UHT milk, tea and coffee, toiletries such as toothpaste, toilet rolls, tissues, period products and nappies, festive treats and sweets. 
Redmond Community Centre Kayani Avenue, Woodberry Down, N4 2HF
Dates until 17 December.
Wednesdays and Fridays only: 10am-2pm. 
Morningside and Gascoyne Food Hub drop off
Morningside Community Center, Cresset Road, E9 6SJ
Dates until 23 December 
Monday: 1pm-6pm.
Tuesdays: 10am-12noon
Thursdays: all day 
Fridays: 10am-12noon