Blackpool
Mental health support in schools launches


Posted on Tuesday 8th February 2022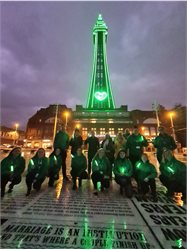 A new service to support young people on the Fylde Coast who are struggling with their mental health and emotional wellbeing launched this week.
The new mental health support teams will be available to pupils at secondary schools, special schools and pupil referral units in Blackpool and Wyre, as well as students at Blackpool and the Fylde College (up to their 19th birthday). They will support those who are experiencing emotional or wellbeing issues such as low-level anxiety, low mood, or friendship or behavioural difficulties, to ensure they don't escalate to more serious mental health issues.
The Fylde Coast Clinical Commissioning Groups (CCGs) were successful in bidding for NHS England (NHSE) funding to create the new teams in July last year and have since been planning the service. Young people from some of the schools involved have helped in shaping what the service will offer and how they will work with young people.
Dr Neil Hartley-Smith, A Blackpool GP and Clinical Director for NHS Blackpool and NHS Fylde and Wyre Clinical Commissioning Groups said:
"This is an incredibly important service. Now, more than ever, supporting our young people with their emotional and mental wellbeing is just so important.

"By offering this support in schools and colleges, we will help pupils to achieve the best educational outcomes and reduce the chance of them developing more serious mental health issues in later in life."
The team is provided by Blackpool Teaching Hospitals NHS Foundation Trust, Helen Hardacre is the service lead and said:
"We are delighted to be starting the Mental Health Support Teams in Blackpool and Wyre, to add to existing support for the emotional wellbeing and mental health needs of our children and young people, as now, more than ever before, so many young people are in difficulty. The work done by the teams will benefit the young people themselves, their families, communities and society as a whole, as well as aiming to reduce the need for health services in the future.

"Education staff will be learning about how to take a whole school approach to emotional and mental wellbeing and this is being coordinated by the trainee Education Mental Health Practitioners in the Mental Health Support Teams, who are just starting to work in some of the schools and college during their training year, with expansion planned from September. They are being supported by senior staff with a range of experience and backgrounds. A great deal of co-production work has already taken place with young people, families and schools, so that their views are incorporated into shaping the service they want, and we are excited that all this preparatory work is coming to fruition as we launch the service officially."

"The young people that have helped us shape the service have been great and really helped us understand how they want us to interact with them, what type of support we need to be able to provide and the types of issues that will need addressing."
Cllr Jo Farrell, Blackpool Council Cabinet Member with responsibilities for Mental Health and Wellbeing, said:
"This new service will have a really important role to play in helping children and young people with mental or wellbeing issues that they may have.

"Young people should not have to face such problems alone. By providing this type of support at an early stage of their lives it should help them with their immediate challenges and worries, as well as learning how to deal with them in the future.

"Our young people have contributed enormously to the development of the service, and we thank them for all their thoughts and ideas which have helped form the specialist work that will be undertaken in schools and colleges across the area."
The team are using Children's Mental Health Week to launch the service and met some of the young people who have shaped the service, head teachers and staff in front of Blackpool Tower on Monday 7 February to mark the start of the week.
From 7 to 13 February 2022, schools, youth groups, organisations and individuals across the UK will take part in Children's Mental Health Week. To mark the support for the week, landmarks and monuments across Lancashire and South Cumbria, including Blackpool Tower, lit up green on Monday 7 February.

Posted on Tuesday 8th February 2022