Eden District Council has announced the launch its exciting new COP26 Community Fund, coinciding with the COP26 conference in Glasgow.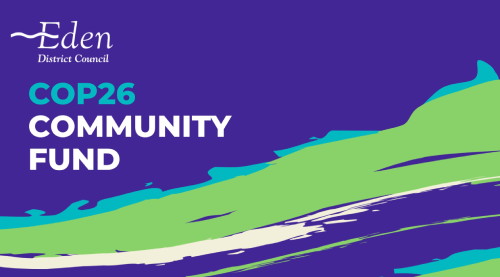 The Council is encouraging parish councils and community groups to get in touch to find out more about the new grant fund, to help plan in their activity within their budget-setting process.
Launched on the final day of COP26 – Friday 12 November – the scheme looks to support projects from community groups and residents that make a positive difference to biodiversity, energy and carbon reduction.
Applications for all sizes of project are welcomed, with thousands of pounds available for those programmes that make the biggest difference. The grant can also be used as match-funding to support larger projects in the area.
Leader of Eden District Council, Cllr Virginia Taylor, said:
"Whether it's energy generation, insulation of buildings, new shared heating systems, tree planting or peat and meadow restoration (amongst many more ideas) – locally designed and run projects can bring cash and health benefits to their communities in addition to helping address climate change.
"There is expert help available and we're pleased to be able to offer financial help to communities – to encourage everyone to have great ideas and make their own difference for people and planet."
For more information on the grant scheme, contact zero.carbon@eden.gov.uk.
ENDS