The University of Bedfordshire has been awarded Platinum certification by EcoCampus for the fourth year running, following its success in the 2021 People & Planet University Green League.
This achievement comes as a result of implementing an accredited framework for managing and maintaining sustainability, known as an Environmental Management System, which the University has had in place since 2013.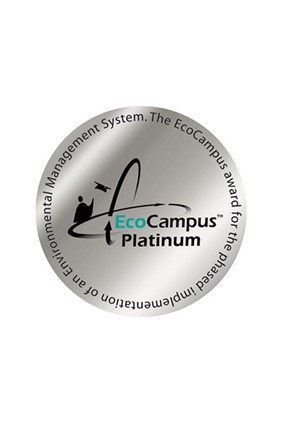 Bedfordshire has improved its sustainability in recent years through campaigns such as Target Zero, and was praised during this latest audit for a commitment to a Science Based Carbon Reduction Target and also committing to Net Zero Carbon by 2050.
Alistair Burg-Broquere, Director of Estates & Facilities at the University, said:
"This is a great result for the University, retaining platinum status for the fourth year running is a real endorsement of our long-term approach and commitment to sustainability for future generations.
"While we were confident that our Environmental Management System would be shown once again to be amongst the very best in the sector, we know we cannot be complacent or stand still – there are always areas we can continuously improve upon.
"This will very much our focus going forward across all our campuses, including as we develop our future Estates Strategy."
The University's Head of Sustainability, Adam Higgin, said he is proud of the 2022 audit's result. He said: "After retaining eighth position in the People & Planet University Green League for 2021, it's fantastic to also retain our EcoCampus Platinum status for another year. It really highlights how the University, its students and staff are committed to the environment and to help tackle the impact of climate change.
"Although a lot rides on the EcoCampus audit, our work doesn't stop there, and our next sustainability target/focus will be on decarbonisation and Education for Sustainable Development."
Adam also wants to remind people to think about the environment off-campus, as there are lots of ways to combat climate change and champion sustainability from home. He commented: "Students and staff can contribute by considering the environmental impacts of the products they buy. Not all countries that manufacture certain products have the same environmental standards as the UK or EU, and this is worth thinking about when purchasing items such as clothing. In general, we can all buy and waste less by reusing or repairing items, recycling packaging, composting food waste and using less water and energy wherever we can."
After moving the University's Environmental Management System over to the Eco Campus standard in 2016, the University was subsequently awarded Silver certification in 2017, Gold in 2018 and Platinum in 2019, 2020, 2021 and now 2022.
Professor Andrew Church, Pro Vice Chancellor for Research & Innovation and Chair of the University's Sustainability Steering Group, added: "It's very pleasing to see Bedfordshire continuing to achieve in its sustainability targets. By pledging towards combatting climate change and adapting our activities to help minimise our environmental impact, we are setting a leading example to other institutions, businesses and the wider community that it's our responsibility to protect the future of our planet."