Council leader attends COP26 and announces new fund for Eden to reach Net-Zero
Eden District Council Leader, Virginia Taylor, joined up to 30,000 residents, businesses, politicians and climate experts in attending COP26: The 26th UN Climate Change Conference of the Parties.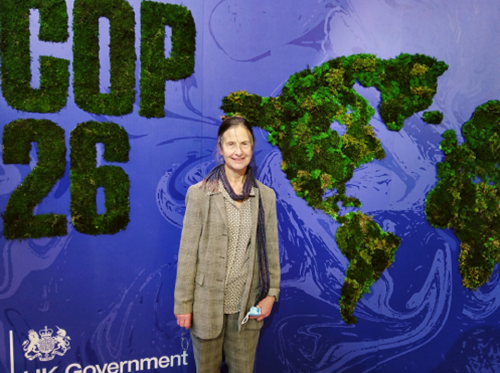 The conference saw heads of state, climate experts and campaigners unite to discuss and agree actions to combat climate change.
To tie in with the much-anticipated event, Eden District Council has also announced a new fund to support community groups and residents in their projects that contribute to the Net-Zero target.
The Council Leader attended a number of events in Glasgow, including panels sharing best practice on the challenges facing rural areas, Transport, Energy and Heat and Buildings.
Cllr Taylor, said, "I was really pleased to attend COP26 and to have the opportunity to meet with politicians and experts from the UK and throughout the world, and find out about their solutions to the special problems we face here in Eden.
"The worldwide conference really brought home how the planet can't be protected unless each government reaches their target, which is made up of multiple smaller targets – including Eden's.
"Improving our housing, and decreasing emissions from transport are long-term projects which won't come cheap! But in order to protect the planet for our children and grandchildren – as well as improving health and well-being, and indeed saving money in savings elsewhere – we have to do all we can, as soon as we can."
The conference comes just after Cllr Taylor joined 87 other leaders of local government across the country in signing up to the NGO UK100 Net Zero Pledge. She added, "I'm delighted that Eden District Council is joining the UK100 network and that we will be part of the only association of Local Authorities across the UK committed to bringing each constituent council's emissions to Net-Zero by 2030."
Following COP26, Eden District Council is set to unveil its bold new Zero Carbon Eden strategy, which sets out its action plan to bring the Council's emissions to zero and the Eden district's to net-zero by 2030. The document also includes a new biodiversity strategy: ensuring that fauna, flora and ecosystems in Eden are preserved, protected and enhanced, now and in the future.
Also being announced is Eden District Council's exciting new COP26 Community Fund. Launched on the last day of COP26 – Friday 12 November – the scheme looks to support projects from community groups and residents that make a positive difference to biodiversity, energy and carbon reduction. Applications for all sizes of project are welcomed – with £000s available for those programmes that make the biggest difference. The grant can also be used as match-funding to support larger projects in the area. The Council is encouraging parish councils and community groups to email zero.carbon@eden.gov.uk to find out more about the new fund.
For more information on Eden District Council's Zero Carbon Eden commitments, visit www.eden.gov.uk/your-environment/zero-carbon-eden.  
ENDS