Doncaster Council win at Keep Britain Tidy Awards 2022
Doncaster Council has claimed a prestigious award for its commitment to bringing more than a thousand volunteers across the borough together to help tackle litter issues and spread awareness on environmental issues.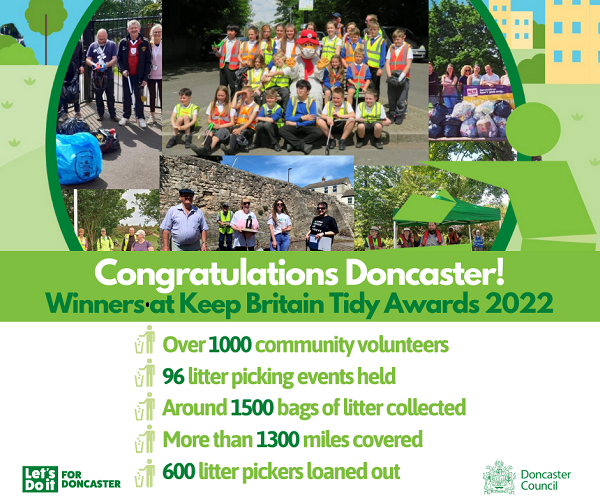 Having being shortlisted as a finalist in the Great British Spring Clean category in November 2021, the council was successful in securing the main prize ahead of the other deserved nominees from the likes of the London Borough of Newham Council and Telford and Wrekin Council.
The success of the campaign lay in the popularity of the event despite the Covid-19 pandemic. In total:
More than 1000 community volunteers took part
96 litter picking events were held
Around 1500 bags of litter were collected
Volunteers covered more than 1300 miles
In excess of 600 litter pickers were loaned out
The exceptional delivery of the Great British Spring Clean campaign in Doncaster was deemed a huge success. It was also the most popular campaign run by the authority, to date.
Large numbers of volunteers across the borough were aided by staff from the Street Scene and Communities teams, who also brought together partnerships of Community Groups, 'Friends of' Groups, Schools, Businesses and individuals who joined forces to safely collect and dispose of litter from their local streets, parks and open spaces.
Councillor Joe Blackham, Portfolio Holder for Enforcement, said: "It's fantastic that we have been recognised for this award after the amount of hard work that everyone put in from all across Doncaster.
"I'd like to thank our members of staff, the public and local businesses, schools and community groups. We are all responsible for ensuring that we play our part in keeping the borough tidy and some of the numbers are incredible.
"We're hoping that the 2022 Great British Spring Clean can be even bigger and better."
The Great British Spring Clean returns on 25 March until 10 April 2022 and we want you to get involved. Details of this will follow in due course.
The three week period which sees volunteers come together with friends, family or colleagues to dedicate a period of time to litter picking – and taking pride – in their neighbourhood.
As part of our 'This is My Doncaster' campaign, we help facilitate this by loaning litter picking equipment out – if required – and arranging the collection bagged waste. Over the last 12 months we have provided 1250 litter pickers, 72 hoops, 900 high-visibility vests and 300 boxes of gloves, along with thousands of waste bags.
Last updated: 11 February 2022 16:24:55