Million pound boost to Fylde Coast sand dunes

Posted on Monday 31st January 2022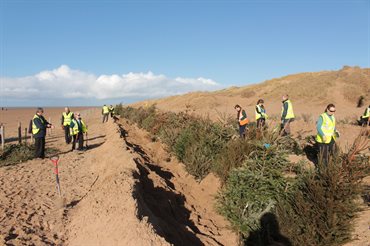 Almost £1 Million has been allocated to Blackpool Council from the Environment Agency to improve the sand dune habitat along the Fylde Coast.
The project delivered in partnership between Blackpool Council, Fylde Council and the Lancashire Wildlife Trust has been undertaking works to implement the Sand Dune Management Plan over the last nine years.
The partnership has now received approval to continue the works for a further five years via an allocation of £999k funding from the Environment Agency
The project, known as the Starr Hill Sand Dune Environmental Works, covers the area from Starr Gate at the boundary of Blackpool to Lytham Green.
Over the last 150 years much of the sand dunes have been lost and today 80 hectares remain. The funding will continue to improve the standard of coast protection to nearby properties. In the long term, the sand dunes protect 493 properties from coastal erosion and eight from flooding. There are now approximately 400 additional new properties which will benefit from the protection of the sand dunes as a natural coastal defence well into the future.
The continuation of the project will maintain and continue to improve the designated sand dune habitat following the advice from Natural England and the Environment Agency
Work so far has included:
Installation of fencing in vulnerable areas

Thatching using donated recycled Christmas trees

Transplanting of Marram and Lyme grass

Removal of invasive non-native species

Implementation of the 2016 Geomorphological Study recommendations

Extensive programme of community and volunteer engagement

Provision of pedestrian access routes aligned away from the prevailing wind direction
 This has led to 60-90m of cumulative dune growth in places since 2013 and, on average, about 10m/year with each line of Christmas trees/chestnut paling and marram thatching installed.
The dunes are home to several internationally significant plants, rare invertebrates, and Priority Species birds. Sand lizards (the UK's rarest lizard) have been successfully reintroduced since 2018 now habitat conditions are deemed favourable.
Through partnership working, the project has led to a change in beach cleaning practices with no mechanical cleaning at the toe of the dunes. Instead, working with local volunteer coastal care groups, weekly litter picking is undertaken manually at the dune toe and in fenced areas. Natural materials are retained and bagged litter is removed by Fylde Council.
Volunteers have been a vital part of the project. They support weekly practical work parties, run guided walks, assist at events, undertake ecological monitoring, contribute to social media, and gain useful practical skills as well as social and mental health benefits from their participation.
Cllr Jane Hugo, Cabinet Member for Climate Change, said:
"I am delighted funding has been secured to continue this vital work. Much has already been achieved since the scheme began in 2013 and the results are visible for all to see.

"It is testament to the hard work of all the partners and volunteers that we are able to put such a robust case forward for future funding. We have a strong track record of delivering coastal protection schemes and it is great to see that work continuing along the Fylde Coast."
Cllr Michael Sayward, Chair of Fylde Council's Leisure and Tourism Committee, said:
"I am very proud of the work we've achieved together so far. The sand dunes of the Fylde Coast both provide a vital function in their protection of properties and are a source of great pleasure for local residents and visitors alike. This additional funding will help our partnership continue to preserve the natural beauty and vibrant habitat of the Fylde Coast's sand dunes for years to come."
Lancashire Wildlife Trust Conservation Officer Kim Wisdom said:
"Over the past nine years there has been significant improvement to the structure of the dunes, which protect wildlife and the homes of people living nearby. Only last year, we saw the completion of a joint project to return sand lizards to the dunes.

 "It is brilliant news that we now have funding to continue the work on the dunes creating habitats that allow plants and creatures to add so much life and colour to this hugely important area. This has been made possible of by a joined-up approach to management by everyone involved."
Andrew Shore, the Environment Agency Area Coastal Engineer, said
"I am really pleased to see the funding approved for a third term to continue this valuable work for the next five years. Real improvements have been made not only to restore and improve the habitat but also to provide sustainable natural flood risk management since the programme of work began in 2013."

Posted on Monday 31st January 2022