Health Secretary shows love for pioneering Essex community teams with Valentine's visit
February 15, 2022
A pioneering community health team that helps reduce avoidable hospital admissions by responding to the crisis needs of patients in their own homes received a Valentine's Day visit from the Health Secretary today.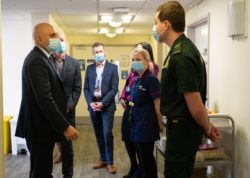 Secretary of State for Health and Social Care, Sajid Javid MP, visited the Mid and South Essex Urgent Community Response Team (UCRT) to see first-hand how the service provides out-of-hospital specialist care to those in urgent need.
Mr Javid visited the Community Coordination Centre at Rochford Community Hospital, the hub from which the team mobilises rapid care for patients experiencing an acute episode of illness or social care crisis.
UCRT is part of the Mid and South Essex Community Collaborative, a partnership between three community providers – Essex Partnership University NHS Foundation Trust (EPUT), Provide CIC and North East London Foundation Trust (NELFT).
Referrals are made to the service by health care professionals, including GPs and paramedics, and each case is triaged before frontline community staff are mobilised to provide urgent care.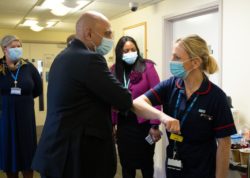 During his visit Mr Javid spoke to GPs and paramedics who use the service, call handlers, triage nurses and frontline UCRT staff, including specialist nurses and occupational therapists, who work together to care for patients in the familiar surroundings of their homes. He also met patients who experienced the UCRT service first-hand.
The development of Mid & South Essex UCRT, accelerated in response to the Covid-19 pandemic, has seen an 87% increase in the number of accepted referrals since its inception in March 2020. This has led to around 2,000 fewer hospital admissions per year and a reduction in demand for around 40 beds per month, as well as significant efficiency saving for the local NHS.
Alex Green, Executive Chief Operating Officer at Essex Partnership University NHS Foundation Trust (EPUT) said: "We were delighted to show Mr Javid exactly how the Urgent Care Response Team operates, from receiving an urgent call to providing timely care for a patient in need.
"The service is not only helping to reduce demand on our hospitals but provides an improved experience of care for patients by enabling them to recover in the comfortable and familiar surroundings of their own homes.
"Our aim for the future is to deliver further community support like this for at least another 1,500 people per year as the service expands."
Health and Social Care Secretary Sajid Javid said:
 "It's been incredible to see first-hand the astonishing work being carried out by health and social care staff across the East of England, and I've enjoyed speaking to local residents and hearing what they would like from our healthcare services as we recover from COVID-19.
"As we continue on the road to recovery, I want to thank everyone in Clacton, Romford, Rochford and the wider region who've shared their thoughts and experiences with me and who have given me the opportunity to talk about my mission to reform services so they better cater to their needs.
"We know integrated care can help boost recovery times, reduce waiting lists and level up the health of the nation and I was proud to see local services are working together in the East of England to achieve this."