High street champion visits Hartlepool
A leading High Streets Task Force expert has visited Hartlepool to celebrate the success of the Shop Hartlepool initiative and encourage even more local businesses and shoppers to get involved.
Graham Soult was visiting Hartlepool in his capacity as a High Streets Task Force Expert.
The High Streets Task Force was commissioned by the government in 2019, and is managed by the Institute of Place Management, of which Graham is a Fellow.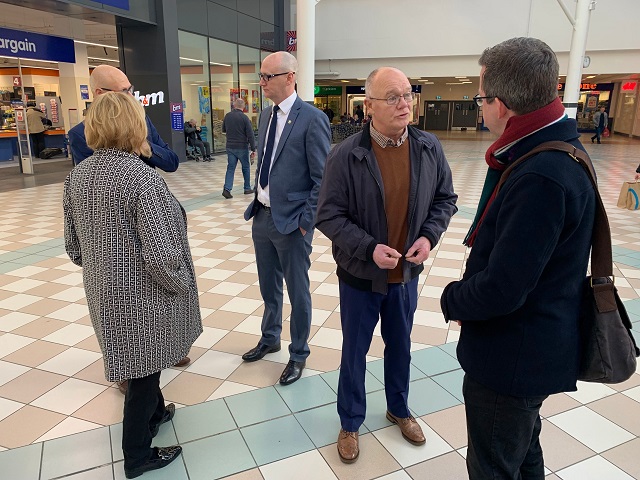 In December 2019, Hartlepool was announced as one of 14 local authorities – and the only one in the North East – that would pilot the products and services of the High Streets Task Force.
Back in March 2020, Hartlepool received its in-person "Unlocking Your Place Potential" visit with Graham Soult as one of the experts.
Following this visit, the High Streets Task Force agreed that its further support for Hartlepool should take the form of helping the town to "activate" the Shop Hartlepool campaign – in other words using Graham's profile, and that of the Task Force, to help spread the word further.
Graham said: "Hartlepool is doing so many great things to help improve and promote its town centre and it's been brilliant meeting some of the independent businesses and hearing their stories.
"Shop Hartlepool is a fantastic initiative which is really helping shoppers and businesses return to normal and prosper after the pandemic and beyond."
The Shop Hartlepool initiative was developed in partnership with Love Hartlepool and Hartlepool Borough Council, with funding from the Government's Reopening the High Street Safely Fund and the European Regional Development Fund.
Janice Auton, the voluntary Co-Chair of Love Hartlepool, said: "It was fantastic to welcome Graham to Hartlepool again and to update him on the progress we have been making with Shop Hartlepool.
"We currently have more than 200 businesses signed up to the initiative from across the Borough and I hope others will consider doing the same following Graham's visit."

Councillor Shane Moore, the Leader of Hartlepool Borough Council, added: "We're absolutely delighted to support Love Hartlepool and the Shop Hartlepool initiative.
"The Shop Hartlepool website is a fantastic platform to showcase businesses of all shapes and sizes and celebrate our amazing independent retailers.
"Graham was incredibly complimentary about the things happening to help improve and promote our town centre and I hope businesses enjoyed having the chance to meet him and to learn from his significant expertise."