Robotic surgery team celebrate first year success
More than 200 patients have benefitted from being operated on by robotic technology at East Suffolk and North Essex NHS Foundation Trust (ESNEFT) during the past year.
The £2.5m Davinci Xi surgical robot was introduced 12 months ago. Since then, surgeons have used it to successfully carry out minimally-invasive colon, rectal and gynaecological cancer operations, as well as procedures for endometriosis.
The technology allows surgeons to complete these complex operations by keyhole surgery, which in turn has resulted in reduced conversion to open surgery, less post-operative pain and earlier discharge from hospital. In addition, feedback from patients who have been treated using the robot has been extremely positive
The innovative technology has proved such a success that it is also due to be featured as part of a BBC documentary called "Your Body Uncovered with Kate Garraway", which is due to air in the spring.
"It has been a hugely successful year for our team of surgeons and theatre staff," said Subash Vasudevan, who chairs ESNEFT's robotics working group and is Trust lead for innovation. "Not only have they completed extensive training to be able to use this technology but have also worked together brilliantly to perform these procedures – all during a global pandemic.
"The robot gives you so much more control when you are operating and magnifies areas so that you can be even more precise. It is also incredibly stable, which makes complex surgery easier and means the surgeon is less tired after a long operation.
"In addition to these achievements, we have recently welcomed the first of the two international robotic fellows to ESNEFT, who are joining us specifically to learn more about robotic surgery. This again is a testament to the hard work and dedication of our team and the Trust's ongoing commitment to innovation."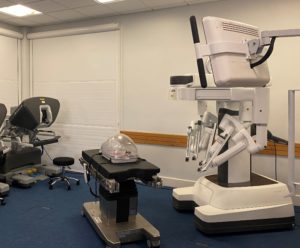 Dr Angela Tillett, chief medical officer with ESNEFT, said: "We are really pleased that ESNEFT is able to offer these innovative robotic techniques to patients who need complex procedures. We have been delighted with the excellent outcomes which we are seeing, both in terms of the recoveries our patients are making and – crucially – their feedback following treatment."
To operate using the robot, the surgeon sits in the same room as the patient and will look through an eye piece on a console while controlling the machine's four arms from the console. This allows them to move tissue or make cuts remotely with incredible accuracy.