Nursing graduate commended following Freemasons award
A recent graduate who was nominated for her contribution to the School of Nursing, Midwifery and Health Education at the University of Bedfordshire has been commended by local press and her former lecturer after accepting a prize from Bedfordshire Freemasons at an in-person ceremony.
The local Freemasons organisation gives the Martin Foss Award – named after a former surgeon and Provincial Grand Master for Bedfordshire – annually to a student nurse or midwife who has made the greatest contribution to their School.
This year's award and £500 prize was handed to first-class honours graduate Amy Truett, a mother of four who worked at Sue Ryder St John's Hospice throughout the three-year course. Now working at Penrose Court nursing home in Biggleswade, Amy has appeared in the local newspaper for her achievements.
Following its publication, Amy said: "I'm feeling a little bit famous this past month!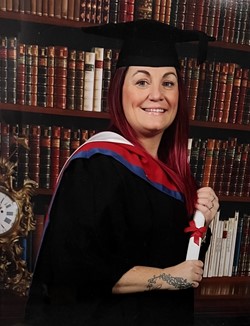 "I was so excited to receive the award, particularly at an in-person graduation. The whole morning was an absolute rush of emotions and most definitely one of the moments in my life I will not forget in a hurry."
Amy told Biggleswade Today about her journey into nursing: "I started my career as a part-time carer, later moving to full-time roles at Hinchingbrooke and Biggleswade hospitals, with breaks to look after my children. The passion inside me to look after others just kept growing and after the sudden loss of my father in law, who I cared for on a daily basis, I said to my husband that I really wanted to become a nurse. I can honestly say the satisfaction I get every day from looking after others, showing empathy and empowering my residents and other staff members is everything I studied for."
Speaking to the University about her time at Bedfordshire, Amy continued: "I completed the majority of my studying and placements throughout the pandemic, which was a tough and scary time. However, the support I received from my family, lecturers and placement staff was extremely encouraging and kept me pushing through.
"Being able study so close to home, at the Bedford Campus, also made it possible. The course timings and days worked well with my parenting life and my part-time job at the time.
"Being a mature student, I thought I'd be the one in the corner on my own, but I wasn't. My cohort was amazing, welcoming and extremely encouraging. We were all different ages and just helped each other, whether it be in-person or via online group chats."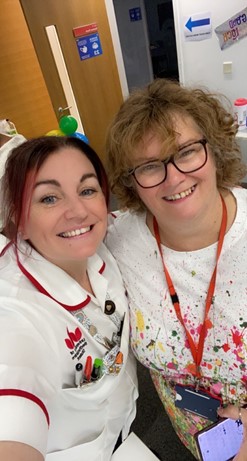 Amy's experience at the University has changed the course of her life, and she would encourage anyone interested in nursing to follow in her footsteps. She said:
"I started my nursing journey at 34 and graduated at 37 with family of four children and a job. I went through many ups and downs and there were a few times I felt like giving up. But the support I had from my husband, children and the University was extremely empowering – I'd encourage anyone to follow their dreams and just go for it!
Katherine Hopkinson (pictured with Amy), Senior Lecturer in Adult Nursing, nominated Amy for the award and is very proud to see how Amy's potential has progressed. She commented:
"I'm absolutely delighted for Amy. When we discussed candidates for awards at the exam board, Amy was a natural choice – she always presented herself as a supportive peer to her cohort, always got excellent feedback from her placements and her high level of clinical ability was demonstrated by taking a post in A&E upon qualifying. The fact she has moved on to work in a care home is again indicative of her nature."
Amy was named as the recipient of the award at her graduation ceremony and was recently presented with a certificate (pictured) by current Provincial Grand Master Tony Henderson, in front of a portrait of Martin Foss (right).