Blackpool supports White Ribbon Day

Posted on Wednesday 24th November 2021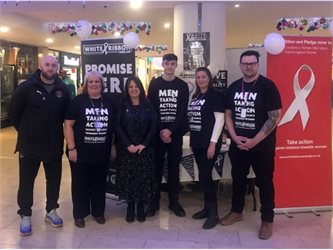 Blackpool is supporting a host of activities across the town to mark national White Ribbon Day (25 November).
The annual campaign aims to educate and raise awareness of violence against women and engage more men to be part of the solution.
Supporters of the campaign are asked to promise never to commit, condone, or remain silent about men's violence against women in all its forms.
Blackpool remains clear that any kind of violence is inexcusable no matter your age, gender, race, religion, class or sexual orientation.
Events and activities will be held on National White Ribbon Day and during the 16 days of action that follow until 10 December to support delivering the White Ribbon message and raise awareness.
The Blackpool Tower will light up white on the national day. For the 16 days of action, a White Ribbon flag will be hoisted above the Town Hall, a White Ribbon tableau will be situated on the prom and the dome of the Winter Gardens will also light up.
The message, 'Blackpool Council support White Ribbon', will flash every 15 seconds on both the approach and exit arches of the promenade as a symbol of solidarity.
Events will also be taking place at Houndshill Shopping Centre and on campus at Blackpool and The Fylde College to raise awareness and recruit White Ribbon Ambassadors and Champions.
Staff from Blackpool FC Community Trust and players from Blackpool FC and AFC Fylde are also getting involved. Players and club staff have been encouraged to become ambassadors and champions of the campaign.
Blackpool Council will be joining a whole host of local organisations getting behind the movement, including Blackpool and The Fylde College, Blackpool FC Community Trust, AFC Fylde, Fylde Coast Women's Aid (FCWA), Empowerment, the specialist children's support service in Blackpool, and the police.
Cllr Jo Farrell, Blackpool Council's Cabinet Member responsible for Adult Social Care and Health, said:
"Even though we continue to face a challenging time due to Covid-19, I am absolutely thrilled to see so many organisations from across Blackpool working together to highlight the important message of the White Ribbon campaign.

"The many activities over the 16 days of action will draw attention to the awful acts of violence against women that happen every day. These acts can have devastating long-term consequences not only on their own lives but the lives of their children, family members and friends.

"By working together and including men in the discussion we are a step closer to ending the unacceptable abuse and harassment in our society."
Anthea Sully, Chief Executive of White Ribbon UK, said:
"It is good to see that Blackpool are, once again, making sure that the need to end violence against women and girls is at the forefront of everyone's mind.

"The events taking place will raise awareness, make sure people know where to get help and support and ensure that men and boys know how they can make a difference."
Brett Whitehead, Community Cohesion Manager at Blackpool FC Community Trust, said:
"Blackpool FC Community Trust and Blackpool FC are once again backing the White Ribbon campaign. Blackpool FC players will be warming up in White Ribbon t-shirts ahead of their game against West Bromwich Albion on Tuesday 23 November to show their support for the campaign.

"White Ribbon beer mats have also been put in local pubs and the club's hospitality suites to raise awareness amongst fans.

"All Trust staff have signed the White Ribbon Promise and workshops will be delivered to Blackpool FC School and Sports College students, with support from staff from domestic abuse services within Blackpool Council and Empowerment."
On behalf of the Blackpool Domestic Abuse and Interpersonal Violence (DAIV), Blackpool received White Ribbon accreditation in 2017 and has once again renewed this support for another year.
Blackpool Council is also assisting other councils to gain accreditation.
Find out more about the campaign at www.whiteribbon.org.uk
If you need help, contact:
In the event of an emergency, call the police on 999
Fylde Coast Women's Aid helpline on 01253 596699
Women's Aid National Domestic Abuse helpline on 0808 2000 247

Posted on Wednesday 24th November 2021