Bumper visitor numbers at new Britannia Leisure Centre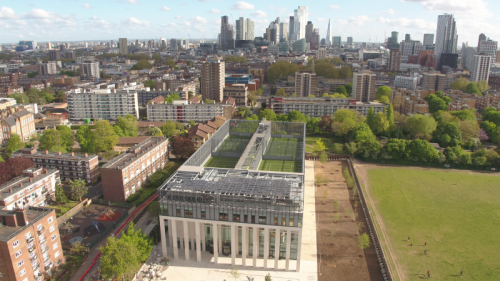 The new Britannia Leisure Centre welcomed nearly 400,000 visitors in its first six months of operation, a quarter of a million more than the old centre in the same period in 2019.
Built as part of the wider Britannia project, the incredible new state-of-the-art leisure centre boasts rooftop pitches with panoramic views, two first-class swimming pools, a leisure water area with flume, a gym, stunning fitness studios and a cafe and toilets that also serve Shoreditch Park.
Membership rates are now more than double the old Leisure Centre, and have reached over 5,000 members.
A total of 391,044 visits were made to the new centre between July and December 2021, compared to 149,671 at the old centre in the same period in 2019, representing an increase of 161%, despite the ongoing impact of the pandemic.
The activity programme at Britannia is also expanding – with more fitness classes by the week, a new programme established in partnership with the Black Swimming Association to teach water safety to underrepresented groups, and free physical activity sessions for over 50s among the many weekly sessions on offer.