Help available for people affected by Storm Eunice and Franklin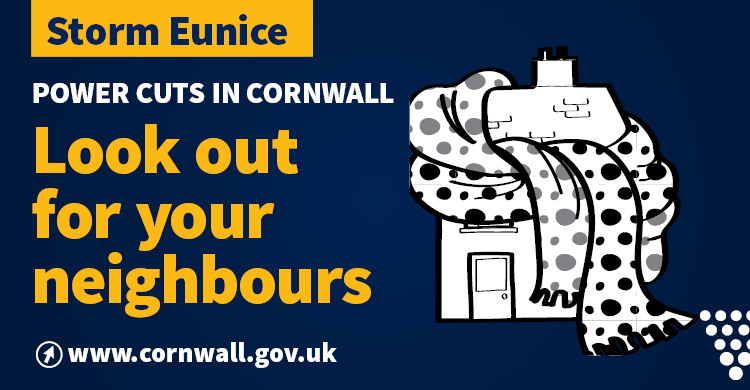 Cornwall Council is reiterating the call to residents to check on and look out for vulnerable neighbours, relatives and friends. Adding an urgent reminder to people without power to stay safe while keeping warm – wrap up warm with blankets and extra layers, and do not put yourself at risk by using unsafe forms of heat. We have received reports of people using barbeques indoors as a form of heat.
We have community spaces in Bodmin, Falmouth, Liskeard, Mullion and Saltash Fire Stations until 6pm today (Sunday 20 February). The stations are open for affected residents to access hot drinks, use microwaves, fill up flasks and hot water bottles and charge mobile phones. Bude Community Centre is also open offering support to people without power.
We also have a number of fleece-lined ponchos available at the fire stations listed above for anyone who needs them.
Call for help from residents and local businesses: If anyone has spare blankets, torches and batteries please take them to the stations above, for people without power to collect.
Residents needing support can ring the Council's emergency number from 9am to 9pm today (Sunday) and Monday on 01872 323752. The helpline service offers support and advice to callers and can pass on specific needs to other agencies or departments where necessary.
Western Power Distribution (WPD) can offer hot food and alternative accommodation if required or reimburse the cost of hot food. If you or someone you know is worried or needs access to food and medication, the WPD support line is open 10am to 6pm on 0808 196 3651. To report a power cut – call 105 or visit www.powercut105.com
The Red Cross can also support vulnerable people in need. Their phone line is open 10am to 6pm: 0808 196 3651.
Cornwall Council is also providing emergency accommodation for anyone sleeping rough, on 0300 1234 161.
Winter Warm and Well advise and information
The Winter Wellbeing guides have useful advice and information about staying warm, keeping well and being happy and safe this winter.
Organisations that can offer support, Monday to Friday, include:
Volunteer Cornwall: 01872 266988, email requestforhelp@volunteercornwall.org.uk
Benefit contact centre offer Crisis Awards of up to £1,500 to help people in emergency or disaster situations with their immediate needs: 0300 1234 121
Community Energy Plus: 0800 954 1956
Age UK Cornwall Helpline: 01872 266 383
Cornwall Fire and Rescue Service: 0800 358 1999
Disability Cornwall – lifestyle support scheme: 01736 697055, email
comf@disabilitycornwall.org.uk
Citizens Advice: 0800 1444 8848
Royal Voluntary Service: 0330 555 0310 (part of British Red Cross)
Royal British Legion offer financial support for emergency situations: 0800 802 8080.
The Fuel Petroleum Service (FPS) runs a Cold Weather Priority scheme. This is designed to identify those customers most vulnerable to cold conditions. It ensures that your fuel supplier knows who you are and where you are. They can then take appropriate steps to ensure fuel availability. This is especially true in times of fuel shortage or extreme cold weather. 
In Cornwall the following are members of the Fuel Petroleum Service (FPS): 
Remember to keep safe while you keep warm – do not use unsafe forms of heat, wrap up in extra layers and blankets.
Anyone with urgent but not life-threatening health concerns should ring 111.
If you are in danger, call 999.
If you are in a situation where you believe you are in danger, call 999.