After school STEM club a hit with local pupils
An after school club funded by Aspire Higher – part of the University of Bedfordshire's Collaborative Projects Team – has helped to increase pupil's interest in learning about STEM-related topics around the areas of sustainability, community and health.
Year 10 students from Mark Rutherford School, Manshead CE Academy, Castle Newnham School and St Thomas More School attended five separate, hour-long virtual sessions. During these evening sessions the pupils heard from a range of STEM-based industry experts, who specialised in the 'Built Environment' and its impact on community, health, productivity and sustainability, such as Zero Waste Scotland.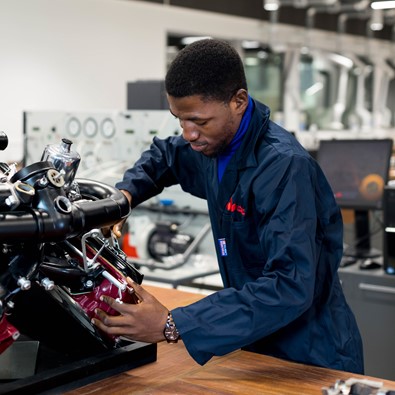 In feedback gathered by the University's Aspire Higher Team – who ran the clubs in partnership with the Engineering Development Trust (EDT) – students expressed an increased interest of sustainability and getting involved with the local STEM community work. Additionally, 100% of students involved rated the theme, content and overall experience of the sessions as 'Very Good' or 'Excellent', with every single participant also agreeing that the workshops gave them a better understanding of STEM.
The Aspire Higher team has a key goal in ensuring school children in the area have further access to STEM enrichment and so the EDT after school clubs fulfilled this aim, as well as helping to reduce the gap in higher education participation between the most and least represented groups and supporting young people to make well-informed decisions about their future education and careers.
Emma Semi, Aspire Higher Project Officer and one of the organisers of the EDT after school clubs, is delighted at the response their initiative received and hopes plans to deliver similar sessions will enjoy continued success. She commented:
"We're incredibly happy that students were so engaged with the sessions and the level of maturity and knowledge of STEM was very impressive. STEM is a very important subject not only to the schools we are working with but also the local community.
"It is essential that students understand the Built Environment and sustainability and that they take this knowledge back to the classroom. The University's relationship with the participating schools has also progressed thanks to these clubs through the Aspire Higher platform, and we look forward to delivering a number of other STEM-based activities in the near future."
A teacher at one of the schools added: "The programme was excellent, extremely organised and relevant to our students. As well as offering knowledge of STEM, it supports so many other skills including communication, teamwork, problem-solving and planning."
Completing the after school sessions contributed to the students' Industrial Cadets Awards – a scheme run by EDT that promotes the development of the next generation of exciting STEM students. To reinforce this potential future path, EDT also showed school pupils different degrees relating to the Built Environment and STEM available at the University of Bedfordshire.
To find out more about getting involved with Aspire Higher projects, visit their website.