Eden
Help for under 25-year-olds to access employment in Eden

A New Eden Youth Worker role has been created to deliver career advice and personal development programmes in Eden.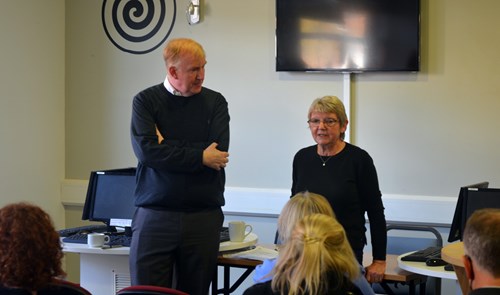 Kimberley Hall has been appointed as Eden Youth Worker by Inspira.
The new role has been created by a partnership between Department for Work and Pensions (DWP), Eden District Council and Inspira.
DWP launched the Youth Hub at Eden Rural Foyer earlier this year, to help young people seeking work to do so in an environment they are comfortable with.
Cllr Mary Robinson, Deputy Leader and Portfolio Holder for Economies and Enterprise at Eden District Council, said, "It has been well documented how young people have been disproportionately affected in the job market since the start of the COVID pandemic.
"The Council was delighted to receive grant funding for its proposal, which will allow our partners at Inspira and DWP to host Kimberley in the new role and provide outreach support to those young people in outlying areas.
"Supporting young people is a key priority of our new economic development plan – Inspiring Eden – and I'm very pleased that the Eden Youth Hub project is now up and running."
Kimberley Hall of Inspira, added, "Eden covers such a large area and whilst the Youth Hub is based in Penrith, not all the young people seeking work are.
"This role provides an opportunity to meet young people aged 16-24 in their local community to support them. Rurality is often a barrier to work, and I hope to be able to help people look at what is possible locally, as well as explore travel options.
"I am already engaged with some young people. We are looking at budgeting, employment rights and responsibilities as well as improving employability skills and making sure they are aware of all opportunities available – and what they could lead to as long-term careers."
Kimberley will be in the Eden Youth Hub every Tuesday, and in Alston, Appleby, and Kirby Stephen at regular intervals. Young people registered as seeking work with DWP will be invited to take up Kimberley's offer of support.
ENDS