Leeds
Library exhibition reveals haunting collection of news cuttings and supernatural stories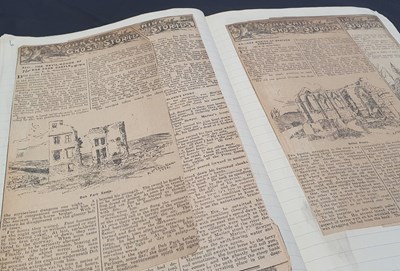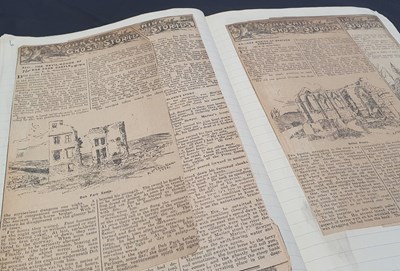 Spine-tingling ghost stories and supernatural newspaper cuttings from the 1900s have resurfaced as part of a national news exhibition launching at Leeds Central Library on 24 February.
The collection of horrifying headlines will feature as part of 'Breaking the News', a fascinating look at the evolution of news and the media over the centuries.
The 'Ghost Stories and Weird Experiences' collection, which was donated by Edwin Hick in 1948, features terrifying tales from across Yorkshire and beyond including a spectral hound, the vanished ghosts of Temple Newsam, a mysterious phantom sailor and local fairy tales.
The weird and wonderful news items from Yorkshire's past are just some of the headlines included in the 'Breaking the News' exhibition which will encourage residents to delve into local headlines dating back to the 17th century.
The display will bring together topical and historical items through a programme of events, talks and workshops. Local artist Megan Dobbyn will also be creating artwork exploring voices historically misrepresented in the media.
The launch at Leeds Central Library will include a special panel event covering the significance of regional news for communities across Leeds and beyond, featuring James Mitchinson from The Yorkshire Post and chaired by Fatima Manji from Channel 4 News. The launch event can be attended in-person and will also be streamed online and to public libraries across the UK.
'Breaking the News' will run at Leeds Central Library between 24 February – 7 April and will launch the Living Knowledge Network's displays across the UK, ahead of the British Library's exhibition in London from 22 April – 21 August.

Councillor Mary Harland, Leeds City Council's executive member for communities, said:

"It's really interesting to see historic examples of local and regional news from over the years and it's fantastic that these have been preserved by the library service to showcase the rich history and diversity of our city.
"Not only can Leeds residents explore historic news stories as part of the exhibition, but they can also find out how their local library can be used to keep on top of current affairs through free access to the internet, information and research, news resources and free to use computers."
Liz Jolly, Chief Librarian at the British Library, said:
"We are thrilled to be working with Leeds Central Library to launch 'Breaking the News' displays opening at over 30 public libraries across the UK. This collaboration builds on our existing presence in the region, from our site at Boston Spa near Wetherby and our Business & Intellectual Property Centre in Leeds Central Library, through to our growing programme of events in Leeds.
"Libraries bring people together, connecting them with information and expertise, and the Living Knowledge Network displays will explore the significance of regional news at the heart of communities, from Aberdeen and Exeter to Bournemouth and Belfast. We hope people will join this celebration in person, at their local library or online to kick-start a nationwide conversation about the role news plays in our society."
'Breaking the News: The Launch Debate' will take place in Leeds Central Library at 19.00-20.00 on 24 February. Tickets can be booked to attend in person and it will be streamed to public libraries across the UK. It will also be available to watch here.
The full programme of events taking place at Leeds Central Library can be found here.
ENDS.