Posted on Monday 15th November 2021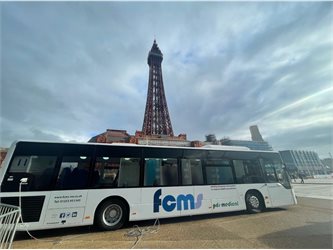 Blackpool's Director of Public Health is hailing the fantastic success of the mobile Covid-19 vaccine clinics which saw the 10,000th vaccination administered in early November.
Blackpool's mobile vaccine service (at the mobile vaccination van, bus and Houndshill pop-up site) is a joint operation set up by Blackpool Council's Public Health team and facilitated by health services provider, FCMS. Two fully qualified NHS vaccinators from pharmacy sites carry out the vaccinations at the van and offer eligible residents an opportunity to get a first, second or booster dose of the COVID-19 vaccination. 
Vaccination pop-up events in the vaccine van have run in town since late June for the general public across dozens of Blackpool locations. Houndshill Community Testing Hub is open every Saturday for walk-in vaccinations, and just recently the vaccine bus joined the mobile site schedule for the winter months. Upcoming events are taking place at easily accessible locations such as the Odeon cinema, Tesco Extra, and Norbreck Castle. 
Residents over the age of 16 can just walk-in to any of the locations and do not need to book to attend. As well as providing first and second dose Pfizer and second dose AstraZeneca vaccinations, booster jabs for those in eligible groups are also available. 
The booster vaccine gives an extra layer of protection from Covid at a time of year when viruses are more easily passed on, and over 1,100 have been provided through the mobile sites alone. Those eligible are encouraged to pop to one of our walk-in sites to get their full programme of vaccination protection.
Dr. Arif Rajpura, Director of Public Health at Blackpool Council, said: 
"It's fantastic that we have hit over 10,000 vaccinations here in Blackpool via the mobile walk-in service. 

"Our goal has been to travel to different areas with the van or bus to host these pop-up clinics, making it easier for residents to get vaccinated at a time and location convenient for them.  

"Often our everyday lives are busy, and we don't make our health a priority. If you're yet to have your first, second or booster jab, and / or you have questions about the COVID-19 vaccine, please do make it a priority to visit the team at one of our locations.  

"There are qualified NHS professionals on site, who have vaccinated thousands of people, and can put your mind at ease."  
Get more information, and see a list of upcoming walk-in events by following Blackpool Council social media pages, or online. 

Posted on Monday 15th November 2021