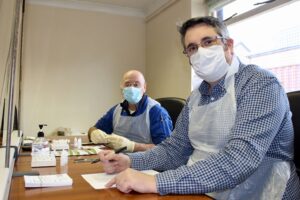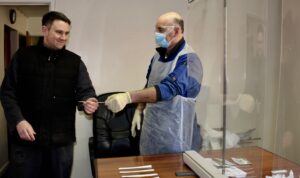 Widnes based manufacturer Genlab have been working with Halton Borough Council's Public Health team during the last year to help keep their staff safe and production going through the most difficult of times.
Just over a year ago in January 2021, like many businesses, Genlab were faced with a shutdown due to COVID-19 and extreme worry about a number of staff and their families who had become ill. Thankfully, everyone recovered well but customer orders were not able to be fulfilled and the company lost over £200,000 in turnover.
Genlab were connected to the Public Health team from previous work on workplace health and wellbeing and were keen to do whatever possible to prevent a similar scenario. Measures included:
Training staff to supervise taking COVID-19 tests safely and securely
Setting up a suitable testing area on site
Implementing routine and regular testing of all staff
Increased and effective hygiene and cleaning measures
Supporting staff who are taking time off due to COVID-19
Encouraging staff to take up COVID-19 vaccinations.
All of this work paid off recently when in January 2022, the company were faced with a similar situation of trying to keep production going against a backdrop of rising numbers of COVID-19 cases in the local community. With workplace testing in place, a small number of staff without symptoms were identified and supported to stay at home. This helped to keep the workplace COVID free and allowed staff to work safely and keep production going.
Phil Crompton, Finance Director for Genlab said, "We are really grateful to the Halton Public Health team for their support especially during the last year. The advice was very sensible and practical, allowing us to adapt measures for our particular manufacturing site and staff. My biggest worry through the pandemic has been the welfare of our staff and their families and we wanted to do everything possible to keep them safe and well.
"I worried about our customers too as our products are used in a range of industries including laboratory and science settings so it was vital that we kept production going to ensure our customers were able to source the essential equipment they needed."
The Council has supported hundreds of local businesses during the pandemic in a range of ways including clarifying guidance and information, advice and consultation, training, grants and practical measures such as supplying COVID-19 testing and home test kit supplies to a wide range of businesses from sole traders to multi-nationals and in almost every sector.
Dr Ifeoma Onyia, Interim Director of Public Health said, "Genlab are a real exemplar of being open to working with us to find ways to reduce the number of COVID-19 cases in the workplace. This, in turn, helps keep the local community safe by preventing the spread of COVID-19 as well as keeping people in the workplace. That means less need for self-isolation, potential loss of income, and the other practical difficulties and other worries that COVID-19 can bring.
"I would like to also thank all of our local businesses for their patience, flexibility and efforts to keep their staff and customers safe over the last two years. The Halton business community has played a massive part in reducing COVID-19 cases and ultimately saving local lives. Thank you."
 The Council's Public Health Team continues to support local businesses with COVID-19 prevention and management as well as a range of other workplace initiatives. To find out more, please contact covidtesting@halton.gov.uk or visit www.halton.gov.uk