University opens in-school careers hub
A new careers hub has launched at Bedford's Castle Newnham School in partnership with the University of Bedfordshire.
Opened by the University's Aspire Higher and Collaborative Projects team, 'The Hub' will be used to give school pupils one to one advice about their future careers and post-16 choices.
Castle Newnham has been working closely with Aspire Higher since 2017, giving pupils a variety of opportunities with Bedfordshire, such as on-campus 'Life as a Student' experience days and academic guest talks on subjects including STEM, Business and Healthcare. The University has also provided support and tutoring for the school's EAL (English as an Additional Language) pupils.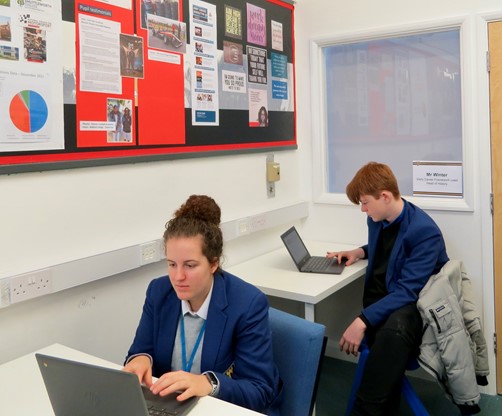 Paula Page, Collaborative Projects Manager at the University of Bedfordshire, said: "We're so pleased to be part of the new careers hub at the school and we're looking forward to supporting their students who are sure to reap the benefits of this dedicated service."
She added: "Aspire Higher has enjoyed working in partnership with Castle Newnham School on a range of inspirational and educational projects over the years, ranging from EAL mentoring, university taster days, residential summer schools, after school clubs and sports projects – and we hope this new venture will be the start of more to come!"
The Hub was officially opened with a ribbon cutting ceremony hosted at the school with Aspire Higher representatives and pupils in attendance.
Alison Boston, Assistant Principal for Aspiration & Achievement at Castle Newnham, said: "We really value the partnership that we have with Aspire Higher through the University of Bedfordshire, as it gives our pupils opportunities to think about life after school and consider subjects they could study and careers they could pursue."
For more information and online resources about careers advice and higher education support available from Aspire Higher, visit the website or contact: aspirehigher@beds.ac.uk