Blackpool Council launches Vaccine Bus in fight against Covid-19

Posted on Thursday 4th November 2021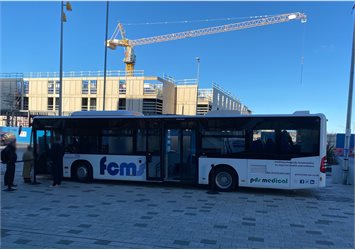 Today, Blackpool Council has launched a vaccine bus in its fight against Covid-19.
The bus will be used as part of the local walk-in site offer and will become integral over the winter months, allowing the vaccination programme to continue from an indoor mobile base, in the heart of local community areas.  
Which vaccinations are available? 
The vaccination offers the best protection against COVID-19. All walk-in sites, including the van, bus and weekly clinic at the Houndshill Community Testing Hub, give residents the opportunity to get vaccinated – with no appointment needed. Each site offers:  
First and second dose Pfizer for anyone aged 16+   

Second dose AstraZeneca (please note a limited supply is available on a first come, first served basis at each site)  

Booster vaccinations for those eligible   
Walk-in locations, dates, locations and times as well as further information about the COVID-19 vaccination can be found online.
Booster vaccinations 
The booster vaccination offers an extra layer of protection ahead of the winter months. For those who have completed the first course of the vaccination programme and have been invited for a booster,  
walk-in or bookable appointments are available for those eligible, at:  
Vaccine van/bus mobile service (varied dates and locations – walk-in) 

Houndshill Community Testing Hub (weekly Saturday – walk-in) 

Yeadon Way South Car Park Pop-up Clinic (appointments & walk-in)   
More information about local booster jab locations can be found online.

Can I bring my 12 to 15-year-old child to the walk-in clinics? 
The council is looking to add the mobile sites to the vaccination programme for those aged between 12 to 15 at the walk-in clinics in the near future. Currently, 12 to 15 years olds are being offered the first dose as part of the school vaccination programme or alternatively, parents/guardians can now book a vaccination appointment online via the NHS website, or by calling 119.

Posted on Thursday 4th November 2021