University rises to 22nd on Stonewall's Top 100 Employers List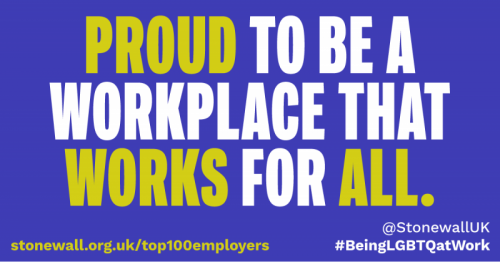 The University of Manchester has been recognised for its continued commitment to inclusion of lesbian, gay, bi, trans and queer/questioning people in the workplace by being named 22nd in Stonewall's 2022 list of the top 100 employers for LGBTQ+ people, and well as its ALLOUT staff group winning an award.
For the last twenty years, Stonewall – Europe's largest LGBTQ+ charity – has been supporting employers to create welcoming workplaces for lesbian, gay, bi, trans and queer/questioning people.
The list ranks organisations on their commitment to creating welcoming environments for their lesbian, gay, bi, trans and queer staff. They are ranked by a set of criteria which includes ensuring HR policies are inclusive of LGBTQ+ people, as well as supporting and celebrating their identities in the workplace.
According to the charity's research, more than a third of LGBTQ+ staff hide who they are at work, while one in five have been the target of negative comments because of their sexuality or gender identity. 
The University is committed to inclusion, and it has a number of staff network groups coordinated by the Equality, Diversity, and Inclusion Team – one of these is the ALLOUT group, which has won Stonewall's 'Highly Commended Network Group' award. It organises awareness-raising events throughout the year, works with the University on policy development and review, and runs the successful Allies programme which provides training to staff who do not identify as LGBTQ+ but wish to support their colleagues. 
The University uses benchmarking tools as part of its inclusion performance metrics, and taking part in the Stonewall Workplace Equality Index has supported this.
"I'm so pleased to see our improved ranking in our seventh consecutive year in Stonewall's Top 100, and am delighted that ALLOUT has been recognised," said Equality, Diversity and Inclusion Partner Paul Marks-Jones. "This is not just a testament to the guidance, polices and support that the University provides, but also to the efforts of the many staff who contribute constant feedback, support and awareness-raising activities.