Students perform bite-sized theatre | University of Bedfordshire
Budding directors and actors from the University of Bedfordshire are set to showcase their talents by performing a series of short productions to a live public audience.
On Thursday 17th and Friday 18th March 2022 in the main theatre on the Bedford campus, students will debut short theatre extracts in the show, 'Theatre, Bitesized'.
These performances – part of a third-year festival connected to the Staging New Writing unit on the Performing Arts degree – will be directed by Performing Arts students and feature Acting students.
This year's festival is set to feature six different performances per evening and features a variety of genres, ranging from real life gangster stories to a Harry Potter musical, with each extract lasting around eight minutes each.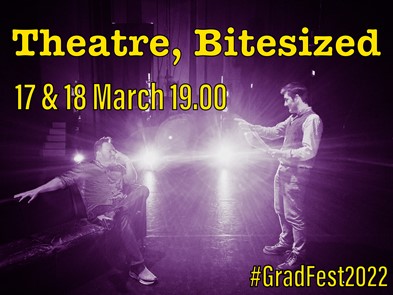 Lecturer and professional actor Richard Mann has been leading the unit for the last six years and says it is a great opportunity for students to experience different theatre styles.
He said: "This is always a fantastic showcase of student work and an apt way to end their time at the University. It brings everyone together as an ensemble and we get to share and experience a range of theatre styles."
The showcase is designed as a chance for aspiring directors to put their own stamp on what theatre means to them and work with a text of their own choosing to create a captivating performance.
Third-year Performing Arts student Sane Nhliziyo said: "The Staging New Writing unit allows me to be the director, to lead people in the way that I want them to go and to be creative."
Izzy Maile, a third-year Performing Arts student added: "It's real fun, getting direction and having a good acting time with my friends."
Technician and demonstrator Jamie Spirito, who is involved with the performances, also emphasised the importance of students working together as a team to create this showcase.
He said: "These performances are always a good collaboration between staff and students, which inevitably produces interesting work."
Ticket prices for the performances are £3 for adults, £1 for students and free for under-16s.
To find out more about the performances and to book tickets, visit: www.beds.ac.uk/theatre/whatson