Blackpool schoolchildren receive free books thanks to councillors

Posted on Wednesday 2nd March 2022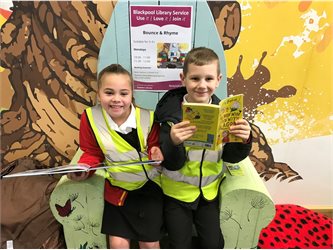 Children from Hawes Side Academy have received a free book thanks to local ward funding from councillors Neal Brookes and Kim Critchley.
Year three pupils from the school were able to select their favourite book from a list put together by the libraries team.
The schoolchildren recently visited Palatine Library to become members of the library service. They were presented with a library card during their visit so they can now take advantage of everything that a library membership offers including access to a wide range of books, e-magazines and comics.
Pupils from Baines Endowed Schools are also set to receive a free book of their choice.
Blackpool libraries are supporting the #Blackpool30 reading challenge, which encourages all residents to read for 30 minutes a day.
Designed to boost literacy levels in the town by helping children and adults form a regular reading habit, the challenge is already proving to be a success with several families, schools and businesses already taking part.
Primary and secondary schools across Blackpool have also been invited to take part in the #Blackpool30 reading competition, which is running until the end of the spring term and has been launched to develop a love of reading.
Cllr Neal Brookes said:
"It's been fantastic to see the children so excited about visiting the library and becoming members of the library service. Hopefully this visit alongside the free books will inspire them to develop a love of reading."
Cllr Kim Critchley said:
"This project has been a fantastic way to encourage the gift of reading and to take part in the local literacy campaign. We are committed to raising literacy levels in Blackpool and would encourage everyone to take part in the reading challenge."
Palatine Library is one of eight libraries in Blackpool. Blackpool libraries provide free access to a wide range of books for all ages with computers and free Wi-Fi. Membership of all Blackpool libraries is free.
Online services can be accessed 24 hours a day, and this include e-Books, e-Audiobooks, e-Magazines and newspapers. Become a member of the library and check the latest opening times by visiting www.blackpool.gov.uk/libraries
To find out more about the reading challenge and competition, visit www.blackpool.gov.uk/Blackpool30 

Posted on Wednesday 2nd March 2022