Tree planting at Frenchfield
Around thirty volunteers braved the cold, rain and sleet to plant 400 trees at Frenchfield sports ground on Saturday, an activity organised by PACT member John Bodger said "We have been looking for some time for possible sites for tree planting in and around Penrith, in order to increase tree cover and improve biodiversity, all as part of 'greening up' the town, and in direct response to the council's declaration of a Climate and Ecological Emergency back in 2019. After various setbacks, not least those imposed by the Covid pandemic, people from across the community have finally been able to take some positive steps in the battle with our changing climate, no matter how small those steps might seem to be".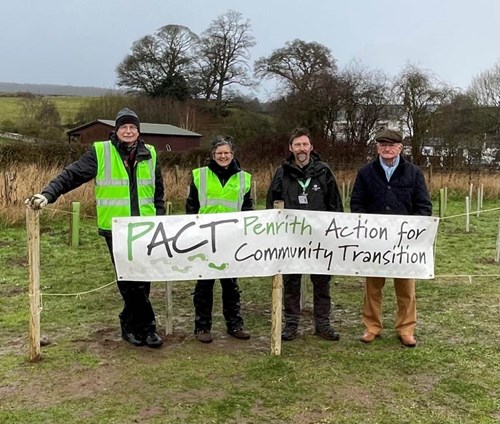 The planting was carried out on four sites at Frenchfield, first identified as suitable locations by tree expert Adrian Bamford, then working with Eden District Council, along with colleagues Doug Huggon and Corentin Cortiula-Phelipot, Eden's Sustainability Coordinator. Because the various locations were all in close proximity to the route of the Park Run, runner, PACT member and Town Councillor Ron Kenyon liaised closely with the runners' representatives to ensure that the proposals had their support.
Said Ron "It was really encouraging to see so many volunteers from across the community, turning out to participate in what was a truly worthwhile activity. Other than PACT members and as well as a number of individuals, the various groups represented included members of Eden Runners, Park Runners, Hunter Hall School, Eden Valley Mountaineering Club, Appleby Edibles, Cumbria Action for Sustainability, Penrith XR and The Woodland Trust."
The day started with a demonstration by Adrian Bamford of the best way of planting trees, depending on the ground conditions at the different locations, following which the volunteers divided into groups, under the guidance of Ali Ross and Belinda Lloyd, both experienced and active tree-planters. In all, over a dozen species of trees were planted in various groupings, but also randomly placed to echo the way in which trees are found in the natural environment.
John Bodger said "Those of us new to tree-planting learned a lot about the different species themselves, and their various characteristics and needs: not least, the ongoing need to monitor the newly-planted trees at regular intervals, especially over the next three or four years until they become established, as well as ensuring that they are well-watered in any spells of prolonged dry weather – although that clearly wasn't an issue on Saturday! PACT has also gathered wild flower seeds, which we will supplement with others and sow on the upturned soil around the trees in March and April next year, to improve the biodiversity and the attendant habitats, not to mention the visual benefits", he added.
Mike Tonkin, Eden District Councillor said "I am pleased that the Council has provided the Frenchfield site for this important project, and I look forward to similar carbon-reducing initiatives. Ten years ago when I held the Environment portfolio, climate change was not universally accepted -now it is a grim reality". "We are fortunate that the planting has escaped the damage that Storm Arwen inflicted around the perimeter of the football stadium at Frenchfield", he added.
As well as their gratitude to all of those who took part, PACT would particularly like to thank Adam Hurst of Penrith who provided his labour without charge for installing fencing posts to protect the newly-planted areas, and Peter Leeson of the Woodland Trust, for identifying and obtaining the various species of trees.
Following the success of this venture, PACT would like to hear from anyone in or around Penrith who owns land that they wish to plant with trees, subject to availability, or who is interested in environmental issues which affect our community. PACT can be contacted via their website, at www.penrithact.org.uk, or by phoning their secretary Christine Sutherland on 07786 073584.