Lord Mayor celebrates World Book Day at Exeter Little Free Library
Pinhoe children, parents and grandparents met the Lord Mayor of Exeter at Hill Barton Little Free Library on World Book Day.
Lord Mayor Cllr Trish Oliver said: "I was delighted to meet a Gruffalo and lots of other children imaginatively dressed, it was such fun to see them excitedly come to choose a book to borrow and to receive a book token.
"I know from my years as an early years teacher that it's never too young to start sharing books with children, and doing so is one of the best gifts a parent, grandparent, sibling or friend can give."
World Book Day is particularly significant for Exeter which has been designated as a UNESCO City of Literature.
Cllr Amal Ghusain, Lead Councillor for Communities and Culture, travelled across the city to meet young residents and congratulate the trustees who look after the book hut.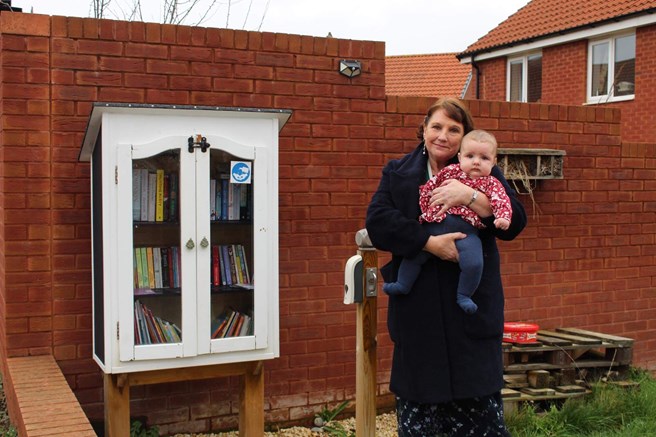 Hill Barton was the first Little Free Library in Exeter – there are now six in Pinhoe alone, and others springing up across the city, many given a helping hand with a ward grant from Exeter city councillors.
Corinna Spurway, who started the little free library, said: "Our Little Free Library at Hill Barton Vale is a wonderful community resource.
"It is so much more than a vessel to house books. It's a place where people can share with their neighbours, it's a destination to walk towards with your children and a place where you can pick up a book without spending any money.
"I hope other libraries continue to pop up throughout Exeter so others can feel the same benefit we do from ours."