Events to support employers and jobseekers during National Careers Week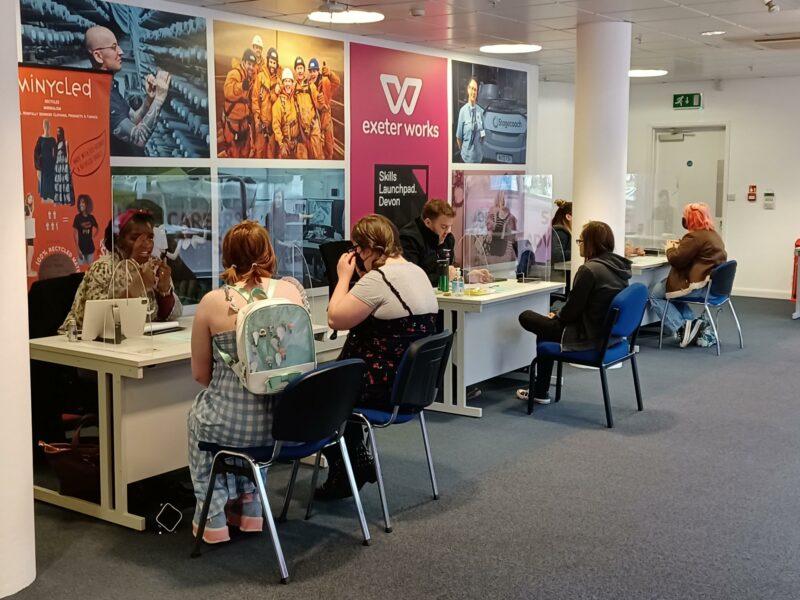 A unique series of events are being provided by Exeter Works and Youth Hub Devon to support businesses and jobseekers in the Exeter area, East Devon and Mid Devon.
Businesses in Exeter are to receive free help and support to recruit and retain staff, while jobseekers will receive sector specific advice and information.
The events form part of National Careers Week which runs from today (7 March) until Saturday (12 March).
Daily advice events at the hub in Princesshay will focus on different sectors which consistently have a high number of vacancies available, such as hospitality and retail, technology, construction and health and social care.
Rhian Hawthorne, Youth Hub coordinator, said: "Each week we receive details of vacancies across the Greater Exeter area, and businesses in these areas consistently share vacancies with us. With so many opportunities available in the area right now, we wanted to put on these events to showcase some of the brilliant roles available, and to encourage jobseekers to consider applying for them."
The daily events are free, and attendees will be able to talk to experts from Exeter Works and Youth Hub Devon, as well as employers from their chosen sectors, and find out more about training opportunities. Among those lined up to attend are Hotel du Vin, Bovey Castle, Digital Skills Partnership, Cathedral Appointments, Kier, Building Greater Exeter, Proud to Care, Bluebird Care and Exeter College.
The advice hub will be open from 10am-2pm each day and the events are as follows:
Monday – hospitality and retail;
Tuesday – digital and technology;
Wednesday – construction;
Thursday – health and social care.
The week concludes on Friday with a business-focussed event, aimed at supporting Exeter's employers in attracting and retaining staff. Ensuring that employers are also involved was seen as crucial in putting the programme of events together, according to Rhian.
She added: "Our job here is usually to provide jobseekers with help and support to guide them into their next role or training opportunity, but of course we must also look at things from the opposite perspective, that of the employer. Ensuring that employers have the tools to recruit and retain staff, is also an important part of the picture."
Councillor Rufus Gilbert, Cabinet Member for Economic Recovery and Skills, said:

"National Careers Week is a good opportunity to highlight job vacancies and training that's available in the area, and these events at Exeter Works / Youth Hub Devon are designed to help jobseekers and businesses. I'm pleased to see that so many local companies will be attending."

 
Councillor Rachel Sutton, from Exeter City Council who has responsibility for skills, says that while there are plenty of jobs available in Exeter, supporting both businesses and jobseekers is vital. She added: "Right now, in Exeter, there are more jobs than jobseekers, so businesses must work harder than ever before to attract and retain their staff. Flexible working arrangements, a positive work/life balance, mental health support and the overall culture of an organisation, must all be considered if one wants to attract the very best."
The employer event is free to attend and takes place on Friday 11 March at the Exeter Works hub in Princesshay.
The event will run as follows:
8.30am – 9.30am – Breakfast, networking, and employer keynote;
9.30am – 12 noon – drop in and talk to a range of organisations about how they can support you.
For more information and to book for the breakfast session: https://www.eventbrite.co.uk/e/recruit-and-retain-post-covid-tickets-266827356807
For further information, go to exeterworks.org or search for Exeter Works and Youth Hub Devon on Facebook, Twitter and Instagram.