Bolton's deputy chief exec on normalising stammer and celebrating inclusivity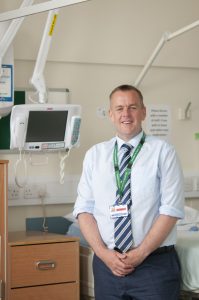 The Deputy Chief Executive and Director of People at Bolton NHS Foundation Trust is setting out on a mission to tackle stigmas around stammering and to celebrate inclusivity.
It's after James Mawrey was recently appointed as a trustee of the British Stammering Association, STAMMA. The charity is close to James' heart, and he alongside the Trust's senior leaders is committed to encouraging a supportive and inclusive culture for staff.
James said: "It is really important to me that stammering is normalised and that people with stammers feel confident and comfortable in their surroundings, both in and out of work.
"A big part of my role is ensuring that our staff feel supported to bring their whole selves to work, and in doing so, provide the very best of patient care.
"I'd welcome the opportunity to share my experience with any member of staff or someone who is thinking of coming to work with us, so they can be confident in the support the Trust provides to all members of Team Bolton."
 An estimated 2% of people identify as having a stammer. You can find out more about STAMMA on their website here.