Eden Tourism Summit 2021: Tourism in Eden
Adapting to the new 'normal' and capitalising on new opportunities going forward – Wednesday 1 December
Eden's tourism businesses will gather next week for a free online summit hosted by Eden District Council.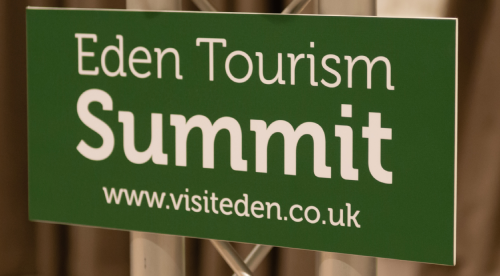 Delegates will have the opportunity to hear from local and national experts about how the tourism industry is adapting in the wake of the Coronavirus pandemic.
Now in its tenth year, the annual Eden Tourism Summit will take place virtually on Wednesday 1 December from 10am to 12noon. The event will explore the theme 'Tourism in Eden: Adapting to the new 'normal' and capitalising on new opportunities going forward'. Speakers will be talking about Covid recovery opportunities and will also cover the issues of Brexit and staff recruitment.
The Summit will feature high profile tourism experts including Kurt Janson, director of The Tourism Alliance, who will address the current challenges and opportunities faced by the visitor economy.
Charlotte Fuke of the Tactical Visitor Management Group, Lake District National Park Authority and Gill Haigh, Managing Director of Cumbria Tourism complete the speaker line-up.
The summit will be chaired by Jim Walker, chair of the Eden Tourism Network, who is delighted that Eden businesses will be able to tap into national and local expertise.
"This is our second virtual Eden Tourism Summit.  We held a successful online Summit last year which was well received by the delegates who attended. Coronavirus has been an incredibly difficult and testing time for the tourism industry and Eden's tourism businesses have had to adapt more than ever before. The Summit will give delegates the opportunity to find out the latest research directly from the experts."
Tourism businesses who attend will be able to ask questions and a panel session at the end will encourage lively debate and discussion.
Cllr Mary Robinson, Deputy Leader and Portfolio Holder for Economies and Enterprise at Eden District Council, said: "We are very much looking forward to welcoming our businesses to our tenth annual Summit. After careful consideration we decided to again hold the event on line and are really hoping to plan an in person event in 2022."
If you are an Eden tourism business and would like to attend, please register before the closing date of 12noon on Tuesday 30 November with Eventbrite. 
For further information email tourism@eden.gov.uk or visit www.visiteden.co.uk
ENDS