Gloucestershire
Gloucestershire Fire and Rescue Service helping with Ukraine war effort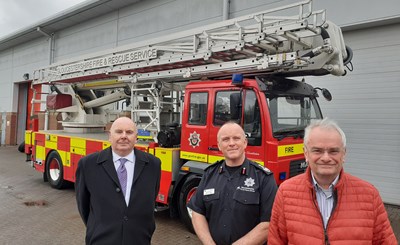 Gloucestershire Fire and Rescue Service (GFRS) is helping with the war effort in Ukraine by donating an Aerial Ladder Platform (ALP) and firefighting equipment.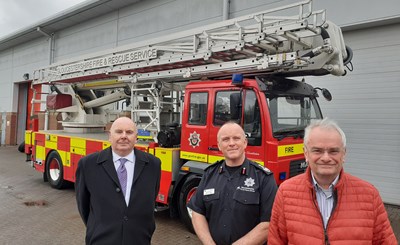 An ALP will be handed over to Ukraine, along with other equipment including portable generators, battery-powered saws, cable reels, portable lights, battery chargers, jerry cans and body armour.
It follows a request from the Home Office through the National Fire Chiefs Council (NFCC) for all fire and rescue services to see what equipment or vehicles they had available for urgent deployment to Ukraine, to help the country defend itself against the Russian invasion.
The ALP is a specialist appliance which can be used to put water onto buildings from above, to assist in rescues from tall buildings or as an observation platform.
The one being donated is no longer needed by GFRS because of its age and has recently been replaced by a newer vehicle. It had been due to be sold at auction.
The other equipment being provided has also been identified as surplus, as the various items have been upgraded.
The ALP and other equipment are being transported to Ukraine via the NFCC.
Cllr Dave Norman, cabinet member with responsibility for the Fire and Rescue Service, said: "I'm sure we've all been moved by the shocking scenes of people fleeing their homes in Ukraine to escape from Russian forces so I'm pleased we're able to make this donation.
"This fire engine and equipment were no longer being used by Gloucestershire Fire and Rescue Service so I'm pleased to see them put to positive use and I hope it helps with the war effort."
Cllr Jeremy Hilton, chair of the fire and rescue scrutiny committee, said: "I'm delighted we're able to donate the ALP and other equipment – it's a really positive move and I hope it will help the people of Ukraine."