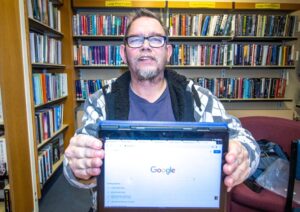 A gift of a free smartphone and digital training during lockdown has totally transformed one Weymouth resident's life.
Ivon Peters, who is profoundly deaf, was given the smart phone from Dorset Council to help him feel less isolated during lockdown.
The 55-year-old also received dedicated help and training from one of the council's volunteer digital champions to help him use the phone to make video calls.
Now, nearly two years later, Ivon has gone from having nothing digital in his house at all – to having a smart phone, tablet, and Wi-Fi.
The time has now come for Ivon to upgrade his phone as his deteriorating eyesight means he needs a bigger screen.
To help him, Ivon reunited with his digital champion, David Smith, to ensure he can get the most affordable deal.
"The smartphone made a huge difference to my life," Ivon recalled.
"I live on my own and the only way I could communicate with friends during lockdown was by text message.
"Then I got the smartphone, and with David's help, I learned how to video call my other deaf friends so we could sign to each other. I now video call my friends every day."
Because of the then Covid restrictions, David would meet Ivon and his signer on a bench outside Littlemoor Library, in all weathers, to train him to use the phone.
Fast forward 18 months and they can now sit comfortably inside the library to go through the mobile phone packages available.
David said: "It's remarkable to see how far Ivon has come. To think back to when we sat on that very cold bench in 2020 and Ivon had no digital experience at all, to see him come this far is very rewarding indeed.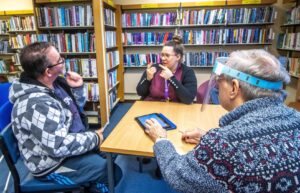 "Ivon still needs support as he was recently put on a very expensive phone package after being poorly advised. Thankfully his support worker intervened and managed to get the contract cancelled.
"Together, his support worker and I, researched what was available and found a phone with a larger screen to make viewing much easier. Obviously, his needs will still be monitored as his digital experience improves."
Ivon was one of 80 digitally excluded people to receive a smartphone or tablet from Dorset Council.
The council teamed up with the charity Good Things Foundation to give smart devices to people who were isolated and had no access to digital.
Every person who received a device also had support from a volunteer digital champion.
Dorset Council's portfolio holder for Corporate Development and Transformation, Cllr Jill Haynes, said: "Ivon's story shows just how much of a difference digital can make to people's lives.
"In Dorset nearly a third of our residents are digitally excluded in some way, either through a lack of skills, poor broadband connections or affordability.
"Digital is increasingly becoming more important and we must continue to look at ways of ensuring people are not being left behind."
David Smith is one of 40 volunteer digital champions who run free advice sessions at libraries and community centres across Dorset.
The volunteer digital champions can also help people over the phone via the council's Digital Hotline.
To find out where the nearest digital champion advice sessions are held and to book a session, or to receive advice over the phone, call the Digital Hotline on 01305 221048 (Monday to Fridays, 10am to noon).