Community invited to dance, play & spring into action this April
A free activity day of dance, fitness and sport for all ages is being hosted by the University of Bedfordshire next month to encourage the local community to get active and try out new ways of keeping fit.
Taking place at the University's Bedford campus on Saturday 2nd April between 9:30am – 4pm, the Spring into Action event will offer a range of activities – including football, yoga, dance and basketball – which are open to people of all ages and abilities.
Throughout the day there will be intergenerational sessions and family challenges to take part in, enabling grandparents, parents, young people and children to get active together.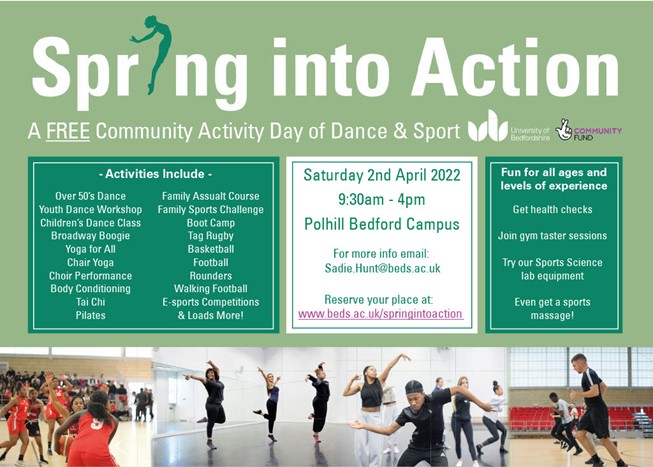 Spring into Action is a cross-faculty event, co-organised by Sadie Hunt from the School of Arts & Creative Industries, Kevin Wyld of the School of Sport Science & Physical Activity and Daniel Larkin, Sport and Wellbeing Manager with the University's Sports Partnerships team.
The idea for Spring into Action was formed through Hunt and Wyld's shared interest and passion for community-facing activity and practice. Wyld and his students run a number of public fitness clinics and activities, and Hunt currently runs a successful over-55s dance group at the University.
Larkin was then brought on board due to his wealth of expertise, experience and useful contacts in the local sports community which have helped to shape the day with exciting activities and opportunities for participants to engage with.
Sadie Hunt, a Senior Lecturer in Dance and Course Coordinator for Dance & Professional Practice, commented: "As we head into spring, let's all get moving and get active together to feel better. The day is intergenerational and completely free so families can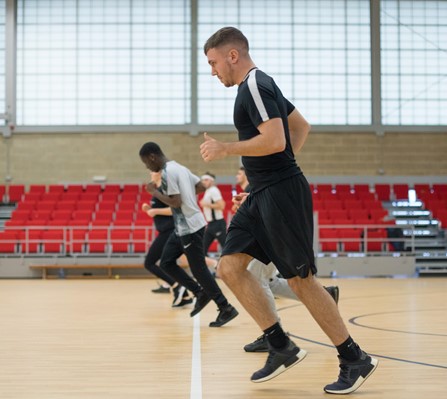 come out and dance and play together. We hope to see grandparents dancing with grandchildren and parents playing sport with their children."
The event also offers the chance to get involved with the University's e-sports hub, undertake health checks with the Sports Science team, enjoy a complimentary sports massage, and much more.
Organisations, charities, groups and companies from across Bedford involved in sport and dance have also been invited to host a pop-up stall during the event to showcase the services they offer.
Kevin Wyld, a Senior Lecturer in Physiology, who has significant experience in targeted exercise for those living with specific health conditions through his wellness clinic and practice, said: "Being physically active can be enjoyable for all age groups, as well as being beneficial to their physical and emotional wellbeing."
Daniel Larkin, who oversees all the University's cross-campus sporting facilities, added: "This is a great opportunity for the community to engage in new activities and experience the University's Bedford campus."
To register for your free tickets to this event, click here or for more information email: Sadie.Hunt@beds.ac.uk