Posted on Tuesday 15th March 2022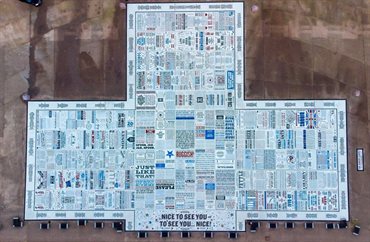 Blackpool's Comedy Carpet has been given a spring clean ahead of the start of the 2022 tourism season.
The carpet, which sits in the shadow of the world-famous Blackpool Tower, celebrates the jokes, songs and comedy catchphrases of Britain's best-loved comedians and writers.
Around 1,000 of them are celebrated with letters ranging in size from a few centimetres to almost a metre tall so that the laughs can be enjoyed close up and at height from the top of the Tower. In total, the artwork contains over 160,000 granite letters and is a remarkable homage to those who have made the nation laugh through the generations.
Created by artist Gordon Young in association with leading design agency, Why Not Associates, the carpet has been given a deep clean by local commercial cleaning service, HLS Cleaning, in readiness for an influx of visitors over the forthcoming Easter holidays.
The work has been undertaken thanks to the government's Welcome Back Fund which is helping to facilitate Blackpool's post-pandemic tourism recovery.
A VisitBlackpool spokesperson said:
"The Comedy Carpet is one of Blackpool's most popular free attractions and it attracts a huge number of visitors. Over the course of a tourism season, that is a lot of footprints!

"We are delighted that we have been able to access Welcome Back funding to give the carpet a fresh look for the 2022 season. Blackpool is the home of popular entertainment and the Comedy Carpet is a fitting tribute to so many comedians who have graced our stages and venues down the years."
The Comedy Carpet spring clean is part-funded by the European Regional Development Fund.
Photograph courtesy of LB Photography

Posted on Tuesday 15th March 2022