Ukrainian dress loan celebrates nation's culture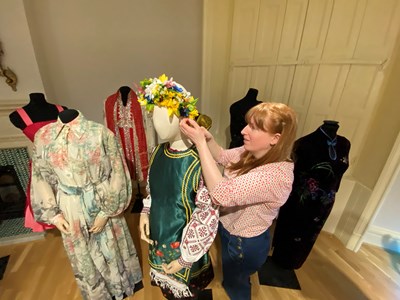 A beautiful Ukrainian costume embroidered by a mother for her daughter to wear on stage during traditional dance performances is being prepared for display in Leeds.
The colourful outfit, dating from the 1960s, is an example of the country's national dress and belongs to Olga Callaghan, a Ukrainian who lives in Leeds. She has loaned it to the city's museums service for an upcoming exhibition at Lotherton exploring the importance of evening dress and fashion.
From the central region of Ukraine, the costume consists of an embroidered shirt called a Vyshyvanka, which is worn along with a Vynok headdress and a sleeveless jacket called a Korstka. 
Worn by both men and women, the embroidery of the Vyshyvanka varies hugely across Ukraine, with each specific region having its own distinct designs. Today, the costume is usually worn for  special events to celebrate identity and heritage.
Olga, 71 who lives in Bramley, said her parents came to the UK via Germany, where they had been taken in the 1940s to carry out forced labour. She now works with the Leeds Ukrainian Community Centre, based in Chapeltown.
She said: "The costume was made for me, and my mother embroidered the blouse herself.  I was in a Ukrainian dance group and the costume was worn when performing on stage and at cultural events.
"I've loaned it so people can see how beautiful the Ukrainian costume is and it will make me extremely proud to see it on show, particularly with everything that is happening in Ukraine at the moment."
Olga's dress is being prepared for display in What Shall I Wear, which will open at Lotherton next month.
Showcasing changing styles, rules and occasions, the exhibition will celebrate the many evolving traditions of dressing up after dusk.
Adam Jaffer, Leeds Museums and Galleries' curator of world cultures, said: "Dress and costume have played such an important part in centuries of culture and heritage all across the world.
"Current events are a poignant reminder to us all of the importance of preserving and celebrating world cultures and how the lives, stories and experiences of different nationalities and generations can be a source of joy and hope."
Last week Leeds City Council announced details of a major fundraising appeal following Russia's invasion of Ukraine.
The Leeds Together For Ukraine appeal will help provide accommodation support and other forms of assistance – in partnership with a range of refugee charities and other third sector organisations – to Ukrainian refugees.
Councillor Jonathan Pryor, Leeds City Council's executive member for economy, culture and education, said: "Culture can act as a shining light in the darkest of times and now perhaps more than ever, it's important that we champion the contribution the Ukrainian people and their rich history have made to our diverse city and the world.
"The people of Leeds have shown tremendous support and compassion for the plight of Ukraine and by celebrating Ukrainian culture we can express both our enduring solidarity and our shared hope for better days to come."
Information on how to make donations to Leeds Together for Ukraine can be found at www.justgiving.com/campaign/LeedsTogetherForUkraine
For more details on What Shall I Wear, visit: https://museumsandgalleries.leeds.gov.uk/events/lotherton/what-shall-i-wear-eveningwear-through-the-ages/?occurrence=2022-04-01
ENDS