Bolton
Membership Matters: Bolton NHS Foundation Trust's 2022 Member's Newsletter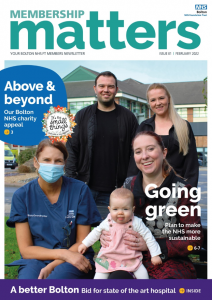 We have recently launched our latest Member's Newsletter highlighting some of our accomplishments and updates over the past year.
The revamped Newsletter is designed to provide an overview of some of the key events that have taken place across the Trust and amongst our services. In the updated newsletter you will find information on our recent bid for a new hospital, an outline of how we dealt with the Omicron variant earlier this year, a spotlight on one of our community services and much more.
The newsletter is now available in a virtual format and can be found here.