Brilliant apprentice overcomes barriers to achieve distinction
A talented trainee has fought back from a life-changing illness to qualify with distinction and win an award for Dental Apprentice of the Year.
Alex McHale received the accolade at the Bradford College FE Student and Apprentice Awards.
The single mother-of-two said: "I have constantly fought my illness and have been determined to not let it get the better of me … to show my children that anything can be achieved with determination and the right support."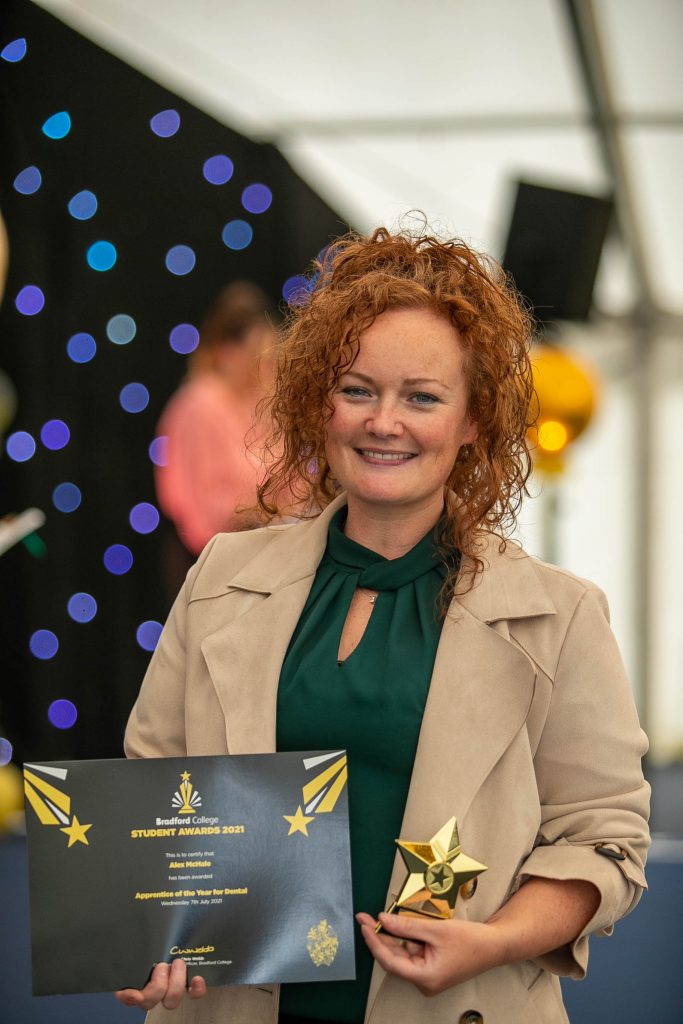 Journey to becoming a dental nurse
Alex's journey to becoming a dental nurse began when she was working at a busy hospital in their maxillofacial operating theatre. She recalled: "I realised how little I knew and understood oral and facial anatomy and physiology. I was eager to learn and build confidence to enable me to care for patients within this sector."
She then began emailing dental practices in the area, before Acorn Dental Centre in Ilkley offered her an apprentice dental nurse position. She began working there while studying for her qualification through Apprenticeships at Bradford College.
Four months into her apprenticeship, Alex was on holiday when she was bitten by an infected tick. She returned to work but found her symptoms became steadily worse until a colleague advised her to go to hospital.
A sudden setback
Unfortunately, she soon found herself battling lyme disease. She said: "It left me hospitalised with facial palsy, memory problems and nerve damage.
"I was unable to use my left hand and struggled lifting my left foot. I was in constant pain and (the illness) affected my memory and speech."
Yet Alex was determined that the sudden disease would not prevent her achieving her dream. She began extensive treatment to enable her to walk and use her hands again. While she was receiving treatment in hospital, she continued with her studies.
Determined to keep going
She said: "With continued care, support from my college tutors and work colleagues, and of course my two children, I was able to return to my apprenticeship. Although I had to re learn all the information that my memory had forgotten, which added to my work load. But I was passionate about learning and wanted to take on the challenge. 
"Talking was my biggest issue when I returned to the practice, as I was unable to connect the correct words together to communicate effectively. Although this was frustrating for me, I often tried to find the funny side of me using complete random words that I needed to use.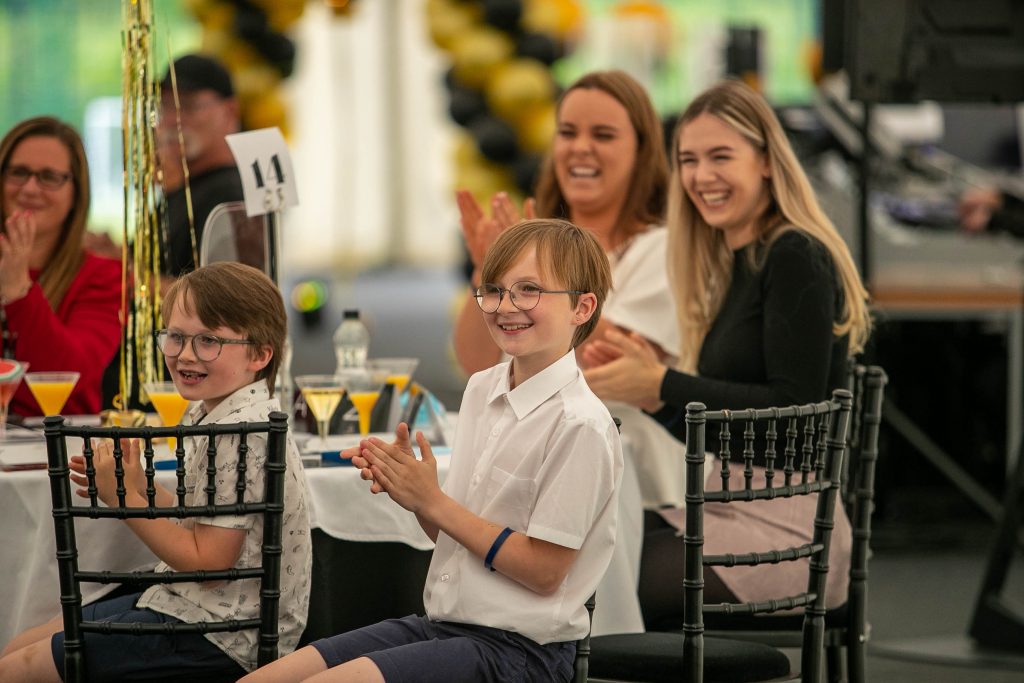 Overcoming barriers
"After my stay in hospital, I was eager to get back to working in dentistry; knowing I still had many barriers to overcome. Using the extremely small equipment used in dentistry was challenging, having lost some of my mobility in one hand. I feel that due to the support I received from my colleagues, I continued to become stronger."
Alex continues to suffer from chronic pain as her condition has started to affect her bones. But, she said, "I am passionate about my career in dentistry and I am determined not to let my illness stop me from achieving."
She went on to achieve distinction at the End Point Assessment of her apprenticeship.
Celebrating achievement
When Alex collected her award, she was able to share the special day with her children Oliver and Robin. She said: "I aim to continue to be a positive role model to them and hope that I can inspire other learners that are battling with personal struggles or illness."
Furthermore, Alex wants to help improve the dental health of the community through supporting and encouraging patients to visit their dentist regularly. She said: "Ensuring they feel comfortable attending check-ups means they are less likely to suffer poor oral health.  
Alex has been able to support young patients as well as people who had avoided visiting the dentist for more than 30 years due to fear. She said: "I want to support a generation to not fear dentistry."
"Her attitude is truly humbling"
Her manager at Acorn Dental Care, Rosanna Firth, said: "She is so very intelligent, yet she is always questioning herself on how to improve. In an industry that has proven to be difficult during this pandemic, this attribute is truly humbling.  She has embraced every challenge she has faced and amazingly done this whilst keeping the rest of the team upbeat."
Announcing her award, Kelly McAllister, Head of Apprenticeships and Business Development, said: "She worked so hard to achieve her qualification and despite all the barriers she had, was successful and gained a distinction. This is an amazing achievement and we're so proud of her."
Apprenticeships at Bradford College
Bradford College is proud to support talented people like Alex to undertake apprenticeships. As well as enabling learners to gain invaluable work experience and earning a wage, apprentices offer outstanding benefits to employers.
Here at Bradford College we have 30 years' experience of delivering apprenticeships. We work closely with employers within Bradford and the wider Leeds City Region. There are lots of reasons why Bradford College is the right choice for you. We have access to high quality training facilities, work with approximately 700 employers and have highly qualified industry specialist staff.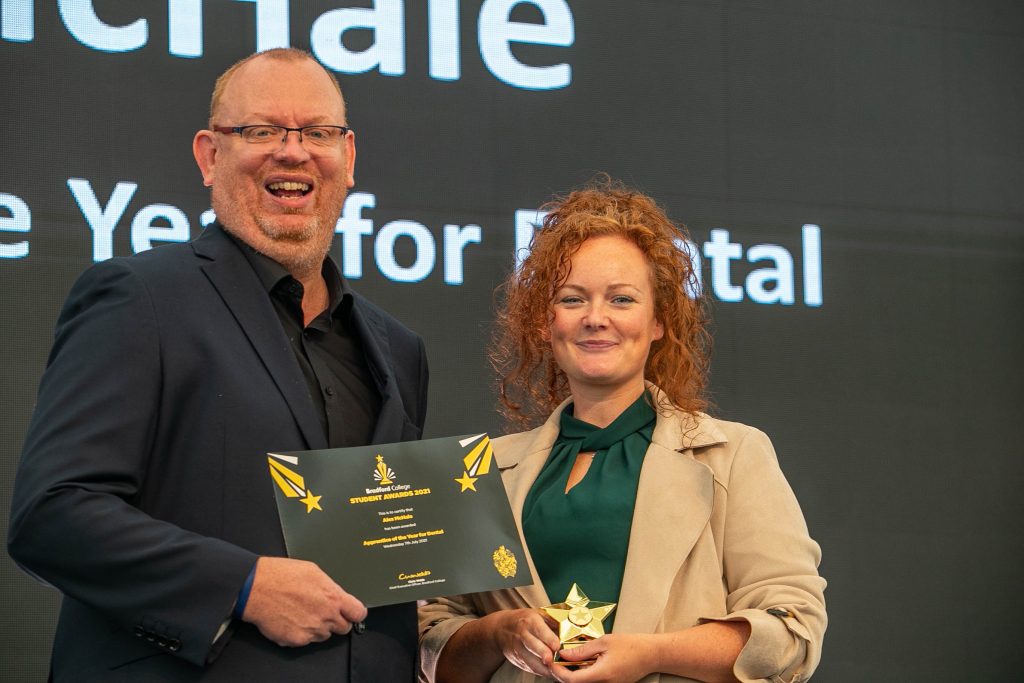 You'll mostly learn through 'on-the-job' training, which is exactly what it says on the tin. Working within your chosen trade, getting hands-on training from your employer, giving you skills to last a lifetime. Then there's usually one day a week 'off-the-job' training in College.
As an organisation we have access to high quality training facilities. Our staff are resourced to deliver flexible and innovative training solutions to meet all employer's needs.
Find out more at https://www.bradfordcollege.ac.uk/apprenticeships/