Support for Social Care Day of Remembrance and Reflection – Coventry City Council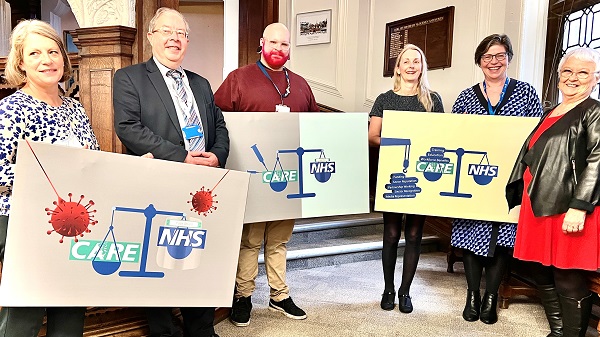 Organisations across Coventry and Warwickshire are supporting a national day to remember the extraordinary effort and sacrifice of social care workers during the COVID-19 pandemic.
Thursday 17 March is Social Care Day of Remembrance and Reflection, and as part of the event, organisations in the subregion are inviting children to take part in a colouring campaign, while Arden University have produced a memorial artwork which will be displayed in a variety of care settings across the Coventry and Warwickshire area.
Using the hashtag #RememberSocialCare the day is a chance to remember those workers who lost their lives to COVID-19. It also recognises those working in social care who worked tirelessly to help keep people safe and well.
The event is co-ordinated by Skills for Care.
Cllr Mal Mutton, Cabinet Member for Adult Services said: "People working in social care have made huge sacrifices, and it is right that we honour their work and dedication throughout the pandemic.




"As a Council we are pleased to support the day. Hundreds of people work in critical care jobs in Coventry that require compassion and intelligence.




"I hope that one of the legacies of the pandemic is that we all place greater value on the care sector and that the government introduce policies that recognise and reward care workers appropriately.




"As a Nation we must not forget the debt that we owe to our dedicated Carers."
A virtual national event is being held where people will reflect on stories and tributes from care workers, organisations and families affected.
People can support this day by using the Memorial Page and Thank You Wall where people can leave a tribute.
Coventry and Warwickshire Local Authorities have developed a poster colouring campaign that is being rolled out across the community including local schools, for people to display in their windows.  The Coventry poster is of Coventry Cathedral and Warwickshire's is of its County flower the honeysuckle.

Arden University and Warwickshire College Group have produced a digital memorial artwork that will tour" across the region.
Nationally there are around 1.5 million people who work in social care workforce.
21 organisations have been signed up to organise this day and have been involved in planning for this event, representing all the different parts of our varied sector.
The partners involved are:
ADASS

Association for Real Change

Associated Retirement Community Operators (ARCO)

Association of Mental Health Providers

British Association of Social Workers (BASW)

Care Provider Alliance (CPA)

Care England

The Care Workers' Charity

Local Government Association (LGA)

Learning Disability England

National Development Team for Inclusion

National Care Association

National Care Forum (NCF)

National Association of Care & Support Workers (NACAS)

Research in Practice

Social Care Institute for Excellence (SCIE)

SOLACE (Society of Local Authority Chief Executives and Senior Managers)

Shared Lives Plus

Skills for Care

UK Homecare Association (UKHCA)

Voluntary Organisations Disability Group (VODG)