Dorset Council hands new set of allotments over to Weymouth Town Council
Councillors, officers, and keen gardeners are celebrating as Dorset Council can finally hand over a new set of seven allotments to a local community in Weymouth.
When the builder of Southdown Farm went bust, Dorset Council received money from the liquidator which was used to set up the site and maintain it for some time.
The Council cleared the allotments under the direction of their Senior Ecologist, who also recommended that the open space was left as is but can also advise on gradual works should there be a need to 'tidy up'.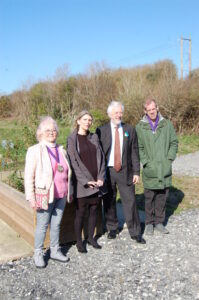 The team discussed matters with residents in the immediate area and there was a preference to keep the trees at the access and maintain wildlife corridors for the benefit of wildlife, as while there were no signs of reptiles there were signs of badgers passing through the site. Dorset Council officers have also left the far end of the site as a mix of rough grassland and scrub as this is an area of high wildlife interest.
Multiple inspections have taken place over the last year to ensure safe access from the highway and that the area is sufficiently protected from flooding incidents. A gravelled parking area has been created near the entrance of the site for visitors, and the area enjoys some stunning coastal views.
Dorset Council has been liaising with Weymouth Town Council (WTC) on the ownership and maintenance of the site. It was agreed that ownership of the site would be transferred to the town council, who are in the process of allocating the plots from applications already received via an electronic form on their website, on a first-come first-served basis. All identified potential plot-owners are from the local area.
Cllr Tony Ferrari, Portfolio Holder for Economic Growth, Assets and Property, is responsible for Dorset Council's land, which included this site. He is also Ward Councillor for Littlemoor and Preston, and commented "It has been quite a legal challenge to get to this point, involving a bankrupt builder and four different Councils. The delay also caused quite a physical challenge too, as the site was heavily overgrown when we came to bring it back into use. But I'm pleased that we can finally hand the site over to Weymouth Town Council, and I know these wonderful allotments will be enjoyed by the local community for many years to come. I also want to thank everyone who has been involved with setting them up."
Cllr Ann Weaving, Deputy Mayor of Weymouth, added: "I'm delighted the town council has been able to acquire this allotment site in Preston from Dorset Council. Gardening is such a great activity for bringing people of varying ages, backgrounds, and abilities together. It can help to improve physical and mental health and wellbeing and provides an opportunity to learn and develop new skills."