Posted on Thursday 24th March 2022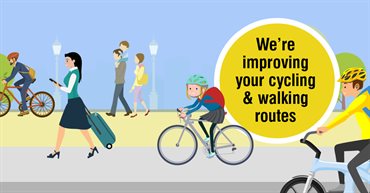 Everyone is invited to take part in a survey to help shape future plans for cycling and walking in Lancashire.
Working in partnership with Lancashire County Council, Blackpool Council is developing Local Cycling and Walking Infrastructure Plans, providing long term solutions for our future cycling and walking networks throughout Lancashire.
A plan will be produced for each of the following seven geographical areas of the county; Central Lancashire, Ribble Valley, Hyndburn and Rossendale, Burnley and Pendle, West Lancashire, Fylde Coast and Lancaster. The Fylde coast plan will include Blackpool alongside Fylde and Wyre.
To help develop these plans, public feedback is being sought from across the county on current cycling and walking provision. This is to better understand what the gaps are in the network and what facilities would enable people to walk and cycle more.
The survey will be available on the LCC website until 5 May 2022.
Additional design and feasibility work will be needed to take any of the proposed schemes forward.
You can find out more about the Local Cycling and Walking Infrastructure Plans, and take part in the survey at on the LCC website. 

Posted on Thursday 24th March 2022