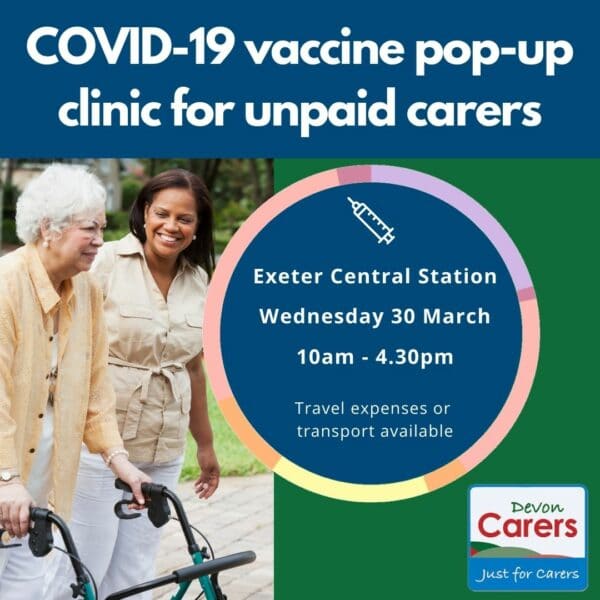 Unpaid carers in the Exeter area are being supported to get their first, second or booster COVID-19 vaccination at a special pop-up clinic on Queen Street outside Exeter Central Railway Station next week.
A team from Devon Carers will be at there on Wednesday 30 March from 10.00am until 4.30pm. 
If you are unable to make your own way there, Devon Carers may be able help provide transport for you, however due to limited capacity they will not be able to take the person you care for. Spaces will be allocated depending on demand and you will be given a time range during which you will be picked up.
If you are travelling by car, bus or train, Devon Carers can reimburse your travel expenses up to a maximum amount of £10.
To request travel expenses or support with transport please email Devon Carers at online@devoncarers.org.uk by midday on Monday 28 March with your name, address, contact telephone number, date of birth and whether you will be travelling to the vaccination and claiming expenses or requiring transport by Devon Carers – and if so, details of your mobility needs.
One of Devon's Carer Ambassadors, Duncan, speaks about the importance of getting your COVID-19 vaccination as a Carer in this short video.
If you have any questions please email online@devoncarers.org.uk or call the Devon Carers helpline on 03456 434 435.