Blackpool
New reading challenge launched to boost literacy levels in Blackpool


Posted on Friday 1st October 2021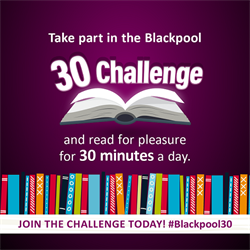 Families in Blackpool are being encouraged to take part in a 30 minute reading challenge in a bid to boost literacy levels in the town.
The Blackpool 30 challenge is at the heart of a new ten-year literacy strategy which aims to improve the reading, writing, speaking and listening skills of residents, regardless of their age.
The reading challenge is open to all residents, businesses, employers and employees, and aims to build a positive reading culture through the discovery of reading for pleasure.
The challenge is designed to help children and adults form a regular reading habit with those taking part encouraged to read for thirty minutes a day.
The rules for the reading challenge are quite relaxed. People do not have to read to achieve a goal or read in a particular place, at a particular time or for a particular reason. The idea is that they form a reading habit and be part of the Blackpool challenge as well as their own, personal reading journey.
The reading material doesn't just have to be a book – it can anything from a magazine, newspaper, or online article.
The main message is that reading is not only fun but it is also good for mental health and wellbeing.
To get involved in the challenge, families are encouraged to:
Read for pleasure for 30 mins every day

Read aloud as a family together, for example, a parent and child or older and younger siblings

Talk about the part of the story that you've just read together. Explore words together – you could even challenge yourselves to drop any new words into conversation
Reading for pleasure is a key part of developing individual literacy skills and can lead to personal development.
Being good at speaking, listening, reading and writing are important in many ways and their impact is felt throughout everyone's lives from boosting confidence to helping people to pass examinations and enter the world of work and training.
The literacy strategy is one of three priority areas that underpins the town's ambitious 2020-30 education strategy. The Education Vision and Strategy 2020-30 sets out the ambition to provide the highest quality education and improve outcomes for children and families in Blackpool.
The vision is the result of a joint effort from Blackpool Council and the partners within the Blackpool Education Improvement Board (BEIB).
Improving levels of adult literacy in Blackpool is one of the key strands of the strategy.
Adults are able to access activities and learning programmes to improve their literacy skills and these are organised by the library service, employers and charities within the town.
Blackpool's network of eight libraries provides free access to a wide range of books for all ages with computers and free WiFi, alongside 24-hour access to online services, which include e-Books, e-Audiobooks and e-Magazines and newspapers.
The council's Adult Learning service provides a range of adult education courses in Blackpool including English, IT, and employability and life skills.
The literacy strategy also includes a pledge that calls on schools, colleges and businesses in Blackpool to join the campaign to champion literacy. The aim is to establish a reading culture across Blackpool that pledges that all employers and companies will promote reading for pleasure across all ages.
Cllr Jim Hobson, Blackpool Council Cabinet Member for Children's Social Care and Schools, said: 
"Our aim is that everyone who lives in Blackpool is confident at speaking, listens well, enjoys reading and writes with clarity and in detail.

"We realise that these are big ambitions which is why everybody has a part to play in raising levels of literacy and this starts with our reading challenge.

"The Blackpool 30 challenge encourages reading as a source of pleasure and fun for our families and is open to all.

"We want all of our residents, regardless of age, to benefit from the joy, discovery and understanding that comes from strong oracy and literacy skills.

"Reading is a passport to the world, it helps people to enjoy learning and better their career prospects and life chances. It also improves wellbeing and confidence and helps children to connect with their emotions.

"There's a place for everyone to join this journey in raising levels of literacy in the town and we would encourage families, schools, colleges, businesses and communities to get involved with our improvement journey and support Blackpool's key priorities."
To find out more, visit our Blackpool 30 page.  

Posted on Friday 1st October 2021