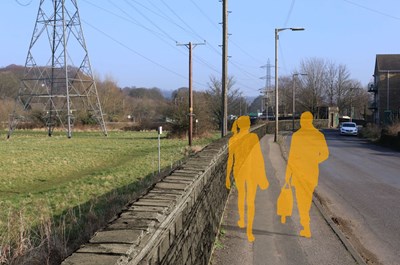 In March 2022, works will begin to reduce the likelihood of flooding in Apperley Bridge as part of the Leeds Flood Alleviation Scheme Phase 2 (Leeds FAS2).
The works will run alongside the River Aire as it flows through the village, from the area of Bottom Farm on Apperley Road up to Harrogate Road, as well at Woodhouse Grove School. The works feature new flood walls and embankments, a pumping station and strengthening of Apperley Lane Bridge. It will begin in March 2022 and is scheduled to be complete by Spring 2023.
Ground investigation works mean that Apperley Lane Bridge is estimated to be closed between the April 27th – May 20th 2022. There are plans for a diversion onto the nearby Harrogate Road Bridge (A658) during this time. There will be further closures to Apperley Lane Bridge later in the year for works to be carried out, dates for future closures will be confirmed in the due course.
New walls will also be constructed along lengths of Carr Beck where it meets the River Aire to ensure that flood risk is not increased in this area.
Updates on work progress, successes and necessary disruption will be provided as appropriate by the FAS2 engagement team and on the Leeds FAS Twitter page. Residents or businesses can find out more about the progress of the scheme, including works in Apperley Bridge, by signing up to the FAS2 mailing list, or visiting the FAS2 updates web page.
Leeds FAS2 is made up of a combination of catchment-wide natural flood management, as well as traditional engineering that stretches for 14km along the River Aire between Leeds Train Station and Apperley Bridge.
When it is complete in autumn 2023, Leeds FAS2 will reduce flood risk to a 0.5% probability of occurring in any given year (a 1-in-200-year level of flood protection) for 1,048 homes and 474 businesses. This level of protection includes an allowance for climate change up to 2069 and will be effective for similar events to the boxing day floods in 2015, which cost Leeds an estimated £36.8m and the city region more than £500m.
Councillor Helen Hayden, Leeds City Council's executive member for infrastructure and climate, said:
"The beginning of works in Apperley Bridge is a key milestone for the catchment wide Leeds FAS2 project because we have been working with Bradford Council for several years to make it happen. The Boxing Day 2015 flooding was devastating for the region so this alleviation scheme will have a substantial benefit for many people in Leeds and Apperley Bridge, Bradford. Residents, businesses, and commuters will all benefit. We are thrilled that the project is continuing to progress at pace to help reduce the impacts of the climate emergency. Leeds FAS2 has also set ambitious carbon reduction targets to support Leeds City Council reaching carbon net zero by 2030."
Jason Longhurst,  strategic director for the Department of Place at Bradford Council, said:
"We are very pleased these prevention works are set to begin after working with Leeds Council and other partners to ensure our flooding strategy is well coordinated.
"The works complement a raft of prevention measures we are putting in place across the Bradford district including upstream natural flood management using natural processes such as leaky dams and moorland restoration to retain and slow water flows.
"We are also helping property owners with damage limitation measures which reduce flooding impacts and the time it takes to return after an incident."
ENDS