Academics support local Roma community to enhance antenatal care
A team of public health and maternity care academics from the University of Bedfordshire have collaborated with the Luton Roma Trust in an effort to increase uptake of antenatal care by Roma women in Luton.
As part of the 'Enhancing Antenatal Care Uptake' project (EnhANCe) which has been funded by Wellbeing of Women in partnership with Burdett Trust, the University's Maternal & Child Health Research Centre (MCHRC), based within the Institute for Health Research, hopes to increase the number of women in Luton starting their antenatal care by the recommended ten weeks of pregnancy.
As part of this research, the MCHRC team looked at data from Luton and Dunstable University Hospital from 2007 to 2016 and found that there are certain groups of women who do not start their antenatal care until much later than the recommended ten weeks, including those from the region's Roma community.
The importance of this research links back to other findings that have previously shown that starting antenatal care early and attending regular appointments plays a vital role in good outcomes for both mothers and babies.
To address this, a programme has been developed in partnership with Roma women and their partners who have recently had a baby in Luton, along with a range of professionals working with pregnant Roma women in the area too.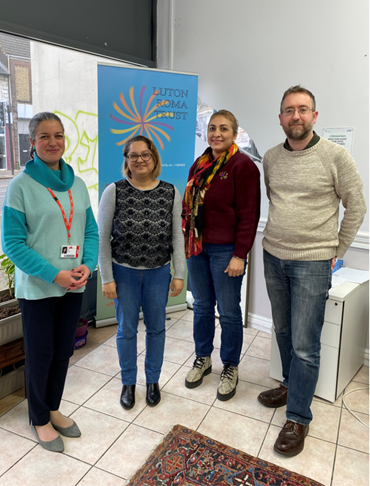 Esther Sharma – a Research Midwife from the University of Bedfordshire – is working with Luton Roma Trust to implement this programme. Part of Esther's role is meeting with groups of Roma women to talk with them about the importance of starting healthcare in pregnancy early, how they can access antenatal care, and why it is so important for the safety of their baby and themselves.
In addition to this, Esther has been delivering training to staff members at the Luton Roma Trust, so they are equipped to inform members of the community and encourage early health checks themselves.
Esther said: "We are really pleased to be partnering with the Luton Roma Trust to communicate vital information about the importance of antenatal care. We hope that these messages will spread through the Roma community in Luton so that more women are able to get the health care in pregnancy to enable them to have a positive and healthy pregnancy and transition to motherhood."
Crina Morteanu, manager of the Luton Roma Trust, also spoke about this important project. She added: "We have been wanting to increase awareness of various aspects of women's health among the Roma community here in Luton, and so being able to run these group sessions is a great benefit to us."
The EnhANCe community programme will run until June 2022.
Research project lead, Dr Shuby Puthussery, the Director of the Maternal and Child Health Research Centre at the University of Bedfordshire, said: "Antenatal care has long been recognised as an effective way of maximising positive health outcomes for pregnant women and their babies. As part of our ongoing commitment towards improving access to and care quality for women from under represented and diverse backgrounds, we are delighted to work in partnership with the Luton Roma Trust to facilitate and enhance antenatal care uptake among the Roma community in Luton."