Kingsley in pole position for fast-paced profession
Fuelled by determination and talent, Kingsley Domfeh hopes to turn his passion for motor vehicles into a fast-paced career.
And the Bradford College Motor Vehicle student has just received the Head of Department Award for Leadership and Peer-Support at the college's FE Student and Apprenticeship Awards.
Kingsley received the award for representing his Level 2 Automotive Maintenance and Repair class as course representative, and always putting the needs of others before his own. Reading out his nomination for the award, Greg O'Shea, Head of Department for Construction and Engineering, said: "He is always keen to help his peers when they are struggling and has become a leader within his group. His determination to be the best he can be is inspiring to those around him and he is always a source of energy and enthusiasm when his classmates need a boost."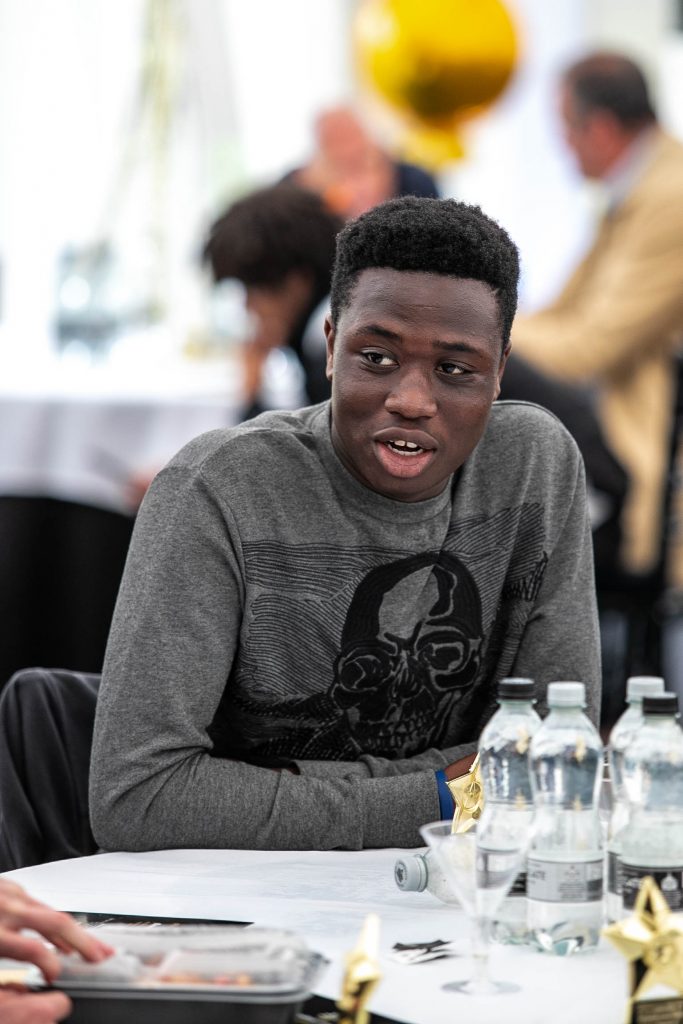 Kingsley, who lives in Middleton, Leeds, said: "It felt really good to win the award and to be recognised for what I've achieved."
Since he was five years old, Kingsley has had a keen interest in cars. He recalled: "It was difficult for me in a way at school because I couldn't share my passion with anyone.
"I was told by my parents that whatever I put my mind to, I could do it. If somebody else is able to do it, I can too. I was able to push myself."
After relocating to Bradford College from Liverpool in 2020, Kingsley achieved his Level 1 Introduction to Vehicle Maintenance in July last year before progressing to Level 2.
Unfortunately, students had to move away from practical work and focus on remote learning due to the Covid pandemic. Kingsley explained: "Throughout Covid our studies continued online via Microsoft Teams. Although we weren't in college, tutors were setting out tasks through online learning platforms and delivering live lessons.
"When it was possible, we had theory lessons online and practical lessons at college." This method of learning helped Kingsley and his fellow students develop problem-solving as well as practical skills."
The course also developed other skills including time management, employability skills, communication, teamwork and self-confidence.
Thanks to Kingsley's success on the course, he was chosen to attend a work trial at Halfords' Wakefield branch. He has secured a two-year apprenticeship with the autocare organisation.
In addition to his standard training, Kingsley has been doing extra work in his own time to learn about the latest developments in the motor vehicle industry.
Kingsley hopes to open his own garage in the future, but is still keeping his options open.  He said: "I want to channel my energy in different areas. I don't want to put my eggs into one basket. I want to go into property, not just fixing cars but perhaps partner with others." Other options Kingsley is considering for the future is opening a motorbike garage, importing vehicles from Japan and the US.
Greg said: "I can think of nobody more deserving of an apprenticeship opportunity with an employer than him. Well done Kingsley!"
Stephen Smith, Curriculum Area Manager for Construction and Engineering, said: "Kingsley has been a delight to teach over the past two years. Despite his learning being interrupted both years by Covid, he has strived to improve and learn and has really maximised his opportunities. He has been an outstanding course rep and has ensured that his peers have had a voice during Covid. I am delighted that, through all his hard work, Kingsley has been selected on merit to join the Halfords apprenticeship academy via Bradford College and will return to us in September to continue his studies via a Level 3 standard."
Motor Vehicle at Bradford College
If you want to work with cars and engines, study one of our Motor Vehicles courses at Bradford College.
You'll train in real workshops and garages and learn the skills you need for a successful career. Discover more at https://www.bradfordcollege.ac.uk/motor-vehicle/