Blackpool pupils show their community spirit

Posted on Wednesday 30th March 2022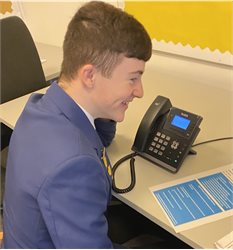 Pupils from Highfield Leadership Academy are "bringing sunshine" to local residents in bid to reduce social isolation.
Four years ago a partnership was established between Highfield Leadership Academy and Blackpool Coastal Housing. Highfield Helpers is one of Highfield Leadership Academy's pupil groups with volunteers aged 11-16 committed to serving their local community.
Initially the partnership linked pupils with residents living at Lostock Gardens. They established a successful afterschool digital group which helped residents to develop their computer skills.
When the pandemic came along the pupils were determined to keep showing their community spirit. They planned a pen pal project called 'Bring Me Sunshine' which allowed everyone to keep connected during the challenging and for some, very lonely time.
Throughout the first lockdown, pupils created weekly postcards that staff posted to residents living at Lostock and local care homes. Still unable to restart community group projects after lockdown, the pen pal scheme was expanded and now every pupil in years 7 to 10 writes a card each half term which is sent out across Blackpool South. On average each half term 400 Bring Me Sunshine cards are sent out.
Pupils reported that being involved in this project gave them a purpose, a sense of pride and self- worth. They shared that when they had no control over what was happening during the pandemic, knowing they could still make a positive difference helped them to look after their mental health. Being involved in these projects also enables pupils to develop their teamwork skills, empathy and their communication skills.
Now a new scheme has been launched known as "Kindness Calls". 14 pupil volunteers have committed to making weekly phone calls to an identified residents in the hope that this connection will combat loneliness for residents and enables the pupils to learn more about their neighbourhood as well as increasing their interpersonal skills
The volunteers have received safeguarding training and advice from Blackpool Coastal Housing officers. The first call focused on interests, hobbies, and the career pathways of some of the residents. Conversations ranged from Henry VIII, life down the pit to musical theatre in London, bagpipes, the Blackpool Air Show and Sunday roasts!  There was laughter and intrigue, and everybody is looking forward to chatting again.  
Rhiannon Torrie, pupil, said:
"I was very nervous but once we started chatting it was good fun. I couldn't believe we had so much in common. My client recognised my accent, so we enjoyed talking about Scotland, bagpipes and dancing. Just 15 minutes chatting can have such a positive impact not just for the clients but for us too." 
Jake Robinson, pupil, said; 
"I really enjoyed talking to my client.  If I am honest, it was intense at first as it's all so new, but we were prepared and soon we relaxed into it. It was interesting to learn about my client's life, especially when he talked about life down the pit and how hard school life was for his generation. We discovered we both liked sport too and he had some good fitness tips for me. I think everyone involved is going to feel happier because of this project."
John Donnellon, Chief Executive of Blackpool Coastal Housing, said:
"I am delighted that this partnership has gone from strength to strength over the past four years. During the pandemic everyone faced their own individual challenges but we know isolation and loneliness was a real struggle for many of our residents.

"The commitment of these young volunteers to make a difference and put a smile on the face of our residents and wider community is just remarkable. They should be so proud of themselves and the difference they are making."
Helen Green, local resident, said:
"I love getting the calls from the students at Highfield Leadership Academy, we enjoy chatting about Edinburgh, I have given them a little task to research the tunnels and the ghost stories of the city! My student has also given me a task to start baking cakes. I have hopefully inspired the student as she mentioned that she would like her parents to take her to Scotland one day. I look forward to my call weekly as we love chatting away and to chat about Scotland."

Posted on Wednesday 30th March 2022