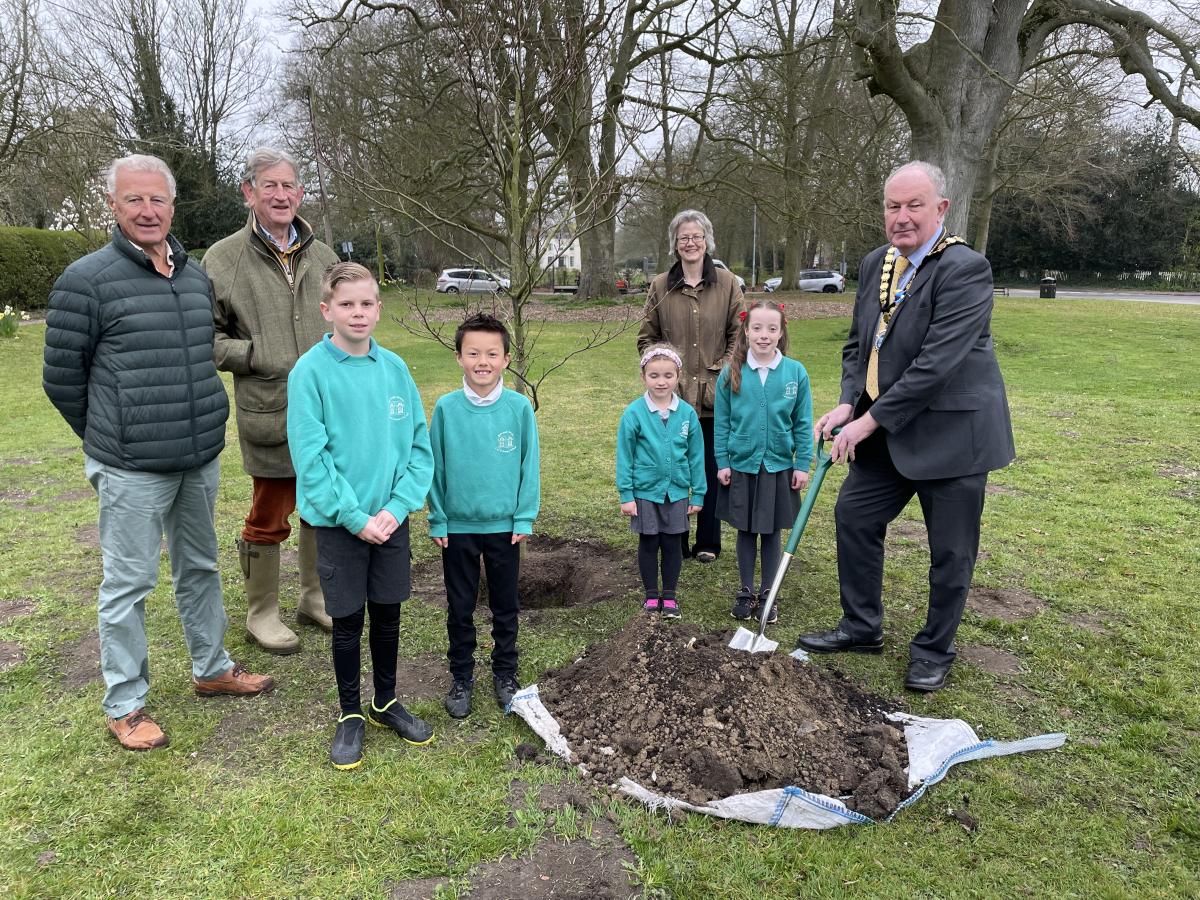 Jubilee celebrations for East Cambridgeshire District Council officially commenced this week with the planting of a Platinum Jubilee tree.
Councillor Alan Sharp, chairman of East Cambridgeshire District Council planted the Beech tree on the green at Beechcroft in Brinkley on Tuesday (29 March 2022).
He was helped by four pupils from Burrough Green Primary School:
Sophie Cole, aged 6, representing Malala Class
Grayson Law, aged 8, representing Einstein Class
Minny Penhaligan, aged 9, representing Teresa Class
George Philips, aged 11, representing Obama Class
They helped to plant the tree and then scattered red, white and blue wildflower seeds at its base, which should be in bloom to mark the Platinum Jubilee Celebrations in June.
Also in attendance were Councillor Anna Bailey, Leader of East Cambridgeshire District Council and councillors from Brinkley Parish Council.
Planting the tree is the first formal initiative the Council has undertaken as part of its Plant a Tree for the Jubilee campaign.
Still to come is the official opening of its Jubilee tree maze in Ely Country Park, plans to sow 20 hectares of wild flowers and a campaign to encourage residents to plant a tree for the Platinum Jubilee next autumn.
Children are also being invited to design banners for East Cambs Street Scene's bin lorries to help raise awareness of the campaign.
Planting the tree, Councillor Alan Sharp, said: "I am extremely honoured to be planting this beech tree in Brinkley today.
"The tree not only commemorates 70 years of the reign of Her Royal Highness Queen Elizabeth II, it's also a beacon for the next 70 years, as we recognise the importance of sustainability in our local environment."
The Zlatia Beech tree, which has been supplied by Barchams, is relatively rare in the UK. It differs from the common Beech as it has wonderful spring and summer flushes of leaves which are yellow before hardening to a light green. This will hopefully make it a prominent feature tree in the park and make it 'stand out' as special tree for a special occasion.
The tree will bear the Queen's Canopy plaque and will be added to the map of trees planted in this historic year on the Queen's Canopy website.
The best time to plant trees is from October to March. Since last autumn East Cambridgeshire District Council has planted 44 trees across the district as part of its ambitions to create a cleaner, greener East Cambridgeshire.
The planting of the Jubilee Beech will be the last tree the Council plants until the season starts again in October 2022.