Cardiff
My non-binary journey with RWCMD « #RWCMD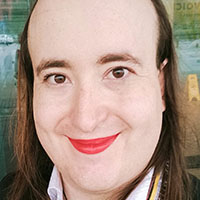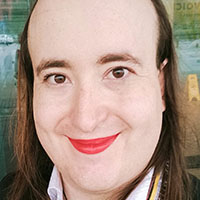 With only a few days to go until The Marriage of Figaro opens at Sherman Theatre, Mica Smith, who plays Figaro, tells us more about the production, their time at RWCMD, and why this is a particularly special production for them as their first performance as a non-binary baritone:
There's just the technical and dress rehearsals to go now after weeks of hard work and preparation. Although everyone is still scrupulous about health and safety procedures, it's been great to be working without social distancing rules after two years of singing at two-three metres distance from each other.
It's going to be an especially big event for me as it'll be my first lead role in a full opera since coming out as non-binary. I'm Mica Smith and I'm in my second year of the Advanced Opera Performance here at RWCMD.
I've been at the College four years (having been fast tracked onto the masters course after two years as an undergrad) and have had some amazing opportunities in that time, singing in lots of different places from school halls to the stage of the Wales Millennium Centre; working with artists such as Carlo Rizzi, Gerald Finlay and Rebecca Evans, and playing roles as diverse as Giorgio Germont in La Traviata to Nick Shadow in Sravinsky's Rake's Progress to The Old Man who Loved Cheese –  a really fun children's opera that we took to local schools about a man who drove his family crazy with his cheese addiction!
A Supportive Community
Studying has not always been plain sailing for me, I have Asperger Syndrome, Dyslexia and Dyspraxia, but I've had such fantastic support from my singing teacher Adrian Thompson, John Fisher, Artistic Director of the David Seligman Opera School, Head of Voice Angela Livingstone, as well as my coaches, James Southhall and Stephen Harris, and so many others.
I've also been incredibly fortunate to receive financial support from the Jenkin-Phillips and the RathUnderwood Scholarship.
Although it's been tough at times, studying at RWCMD has been the best experience of my life and I'm so proud to be spending the final year of my course bringing my whole self to my performances as a non-binary baritone.
Finding my Figaro
What I love about Cardiff and the College is that it's a really inclusive place to study, which has helped me to feel comfortable being open about my identity.
I was so excited when I heard that our Spring production was going to be The Marriage of Figaro as I've sung opera scenes featuring Figaro's arias before, but this is my first time singing the whole role! Figaro is a great character and a very layered individual, flamboyant, extroverted, jealous and anxious.
It's one of Mozart's most popular operas and has been staged in so many ways over the years, so one of the key things we've been working on is presenting the work in a fresh way and making the production relevant to a modern audience.
At the start of rehearsals we did a lot of work developing our characters by processing the libretto and making decisions with our director Harry Fehr and his assistant, MA Opera Directing student Tabitha Benton-Evans.
This really helped us to get a feel for our roles. Harry was keen to use modern staging so we discussed what pronouns I was comfortable using for the character.
My pronouns are they/them but we landed on Figaro using he/him pronouns. Harry checked in to make sure that I was comfortable with that and I was able to say – "yes of course – it's a character not me!"

We decided it'd be easier when talking about Figaro to use he/him pronouns but the rehearsal space has still felt really safe because Harry, Tabitha, our conductor David Jones, our set designer, Design for Performance student Céleste Langrée and all the other performers have continued to consistently use they/them pronouns for me whenever they aren't talking about the character.
Even though I'm playing a masculine-presenting role, our costume designer, student Sacha Van Zutphen asked for pictures of members of the cast out of character before creating the costume designs and has incorporated some really nice touches.
Sacha also made sure I had a safe place to change before joining my colleagues in the dressing rooms. It's been great working in such a comfortable atmosphere with such an accepting company.
Working with WNO
Being at RWCMD has opened up all kinds of other opportunities for me, such as singing with the BBC National Orchestra and Chorus of Wales.
I've been particularly proud to sing with Welsh National Opera Youth Productions: I'm Count Heinrich in The Black Spider by Judith Weir, and Drebyednev in their autumn production of Shostakovich's Cherry Town, Moscow.
WNO is just as accepting as the College and has welcomed me wearing my they/them pronoun badge and presenting in the way I feel most comfortable.
Their acceptance of LGBTQ+ identities enabled other young people to feel safe about introducing themselves at a recent rehearsal using they/them pronouns and a name they feel more comfortable with, rather than using their assigned name and gender.
I'm so proud to be part of a College and a city where I feel diversity is embraced, where I can be free to truly be myself, and where my gifts and talents are recognised and celebrated.

Figaro – here we come!
The Marriage of Figaro will be performed at Sherman Theatre from 2-6 April.
For more information on the David Seligman Opera School see our website.
WNO's autumn production of Shostakovich's Cherry Town, Moscow, performed by the award-winning WNO Youth Opera is on 9th October at Wales Millennium Centre.