New training programme could help thousands more get online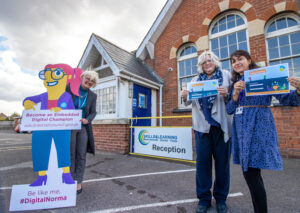 A free training programme has been launched to recruit an army of special advisors who can help Dorset's digitally excluded residents get online.
Open to any organisation in Dorset which works directly with residents, the new programme will train people who can champion online services to their users and customers.
Called the 'Embedded Digital Champion' programme, the Dorset Council-run course aims to train 1,000 of the county's frontline workers by 2023.
Organisations across Dorset are being encouraged to find out how this course can help their staff and volunteers to become digital champions.
Dorset Council's portfolio holder for Corporate Development and Transformation, Cllr Jill Haynes, said: "Whether it's booking your doctor's appointment or filling in an application form, so many things can now be done quickly and easily at a click of a few buttons or the touching of a screen.
"But although it's easy and convenient for most of us, what we need to remember is there are some people who do not feel confident doing things online – and that's where the embedded digital champions come in.
"Embedded digital champions will be able to assist customers there and then or, if needed, refer them on for extra support and advice."
It's estimated that every embedded digital champion will help on average eight customers a week with a digital related enquiry.
If 1,000 embedded digital champions are recruited, that could potentially solve around 400,000 digital enquiries every year.
A survey of Dorset residents revealed that 11% are still totally offline while a further 20% don't have all the skills needed to make the most of the digital world.
The embedded digital champion training, which can be tailored to meet an organisation's needs, will ensure those digitally excluded can turn to someone for advice.
Residents who do not have access to a digital device can use computers at Dorset Council libraries and receive help and advice from library staff.
A team from Skills & Learning, which provides a range of adult courses for Dorset residents, were among the first to complete the embedded digital champion training.
Customer and Business Support Team Leader, Julia Fay, said: "We wanted to do the training as a lot of our courses are online but many of our learners come to us with very low digital skills.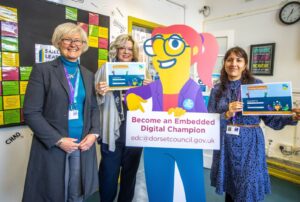 "The embedded digital champion training really helped us take a step back and look at it from the customer's perspective. For example, not to use jargon. Don't say to someone 'go to the menu' as they might say 'what's a menu' or don't use terms like 'web browser' as not everyone knows what that means.
"We not only feel more confident in helping our learners to understand digital when speaking to them over the phone, but we also know where to signpost them for any extra support they might need."
Any organisation that would like to find out more about the embedded digital champion training and course dates available, can email edc@dorsetcouncil.gov.uk or watch a new short film featuring embedded digital champion #DigitalNorma https://youtu.be/7Hj6ZcYHW_s