Sad news – Honorary Alderman Sylvia Taylor

Posted on Monday 20th September 2021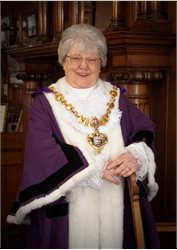 Blackpool Council was deeply saddened to learn of the death  of Honorary Alderman Sylvia Taylor, former Mayor of the Borough in 2012-2013 and formerly councillor for Claremont Ward.
Sylvia was born in Oldham and moved to Blackpool in 1954.  She started work in the check office of the Co-op on Shepherd Street.
Sylvia met her husband, Ivan, at the Empress Ballroom of the Winter Gardens in November 1959 and they were married one year later at St Thomas's Church, Caunce Street. She initially lived in Bispham and she and Ivan adopted a daughter, Lisa, in 1969 and moved to Devonshire Road in 1971.
In 1981 Sylvia moved to her present address and worked seasonally in the cash office of the Blackpool Tower.  She moved on to working as a wages clerk and cashier at Superbowl and Brannigans.  Sylvia finally retired in 1995 when she became a Councillor in Claremont. 
Sylvia started her political career when she joined the Labour Party in 1962 and stood for the Council in a number of times in the mid-1960s in the old Bank Hey Ward which is now the Brunswick Ward.  She became a County Councillor for Brunswick and Claremont in a by-election due to the death of Eric Kirton in 1993 and for a short time was both a County Councillor and Local Councillor.  She always enjoyed working in education, health, fire authority and licensing during her time at the Council.
In 1979 Sylvia became a Magistrate and achieved 20 years service before transferring to the Supplemental List.  She had been a governor at Devonshire Primary School for nearly 40 years and had been a committee member and Trustee of the Boys and Girls Club at Laycock Gate from 1995.  Sylvia began attending the Salvation Army in 1998 and served as an adherent.
During her time at the Council as well as being Mayor in 2012-2013, Sylvia had been Mayoress to her husband, Ivan and Deputy Mayoress to Cllr Sheilagh Baugh when Cllr Leo Pomfret was the Mayor in 1987.
Cllr Lynn Williams, Leader of Blackpool Council, said: "I became a councillor in 2015 when Sylvia retired after 20 years' service as a ward councillor.

 "Sylvia was a wonderful person, she cared deeply about people and the town and understood the problems faced and worked hard as a councillor to help and support people. Even after her retirement as councillor she remained active in the Claremont ward and I will remain forever grateful for her support and encouragement.

 "I, and an awful lot of people across the council, the town and wider afield will miss Sylvia very much."
Our deepest sympathy goes out to Ivan and family in their great loss.

Posted on Monday 20th September 2021